7 Most Incredible Charcuterie Chalets for 2023
September 20, 2022
Food trends online are continuous and are always offering up tasty inspirations for us to create our own pieces of edible art at home. There are some amazing edible creations you can find out there. Well, tis the season! Here, we've rounded up some of our favorite charcuterie chalets online to give us inspo for our own savory structures come this holiday season. We hope you enjoy these feasts for the eyes as much as we do!
Click here to learn more about Avital Tours charcuterie chalet kits if you're feeling inspired – this way you don't have to buy all the gear yourself after you've been emboldened to create your own.
What are Charcuterie Chalets?
But, first things first, what is a charcuterie chalet? If you haven't heard of charcuterie chalets, charcuterie houses, veggie villas, or a fromage cottage – don't fret, we've got you covered. This new trend is a savory take on the classic gingerbread house. Not everyone has a sweet tooth (including me so I love this hot take) and this activity is perfect for an appreciator or savory foods with the typical inundation of sweet treats at this festive time of year.
Instead of the classic gingerbread house components you use the makings for a charcuterie board. Cheese lovers unite! For the gingerbread walls, typically people use crackers or even vegetables to construct their charcuterie chalets. Then, instead of frosting for the glue or cement, you'll use a cheese spread – perfect substitute isn't it? Lastly, instead of different candy and cookies as the decor, windows, doors, and such – you'll use pretzels, dried fruits, nuts – pretty much anything you'd see on a charcuterie board!
An easy alternative for those that don't eat meat is to create a fromage cottage instead – all you have to do is omit the salami and dried meats! Vegan? We think even a veggie villa might be in order with vegan cream cheese.
Best part? When you're done appreciating the savory structure you created, you can snack on it as your charcuterie chalet snack board… or I should say snack house!
A WINTER WONDERLAND WITH CREAM CHEESE SPACKLE AND SAGE GARLAND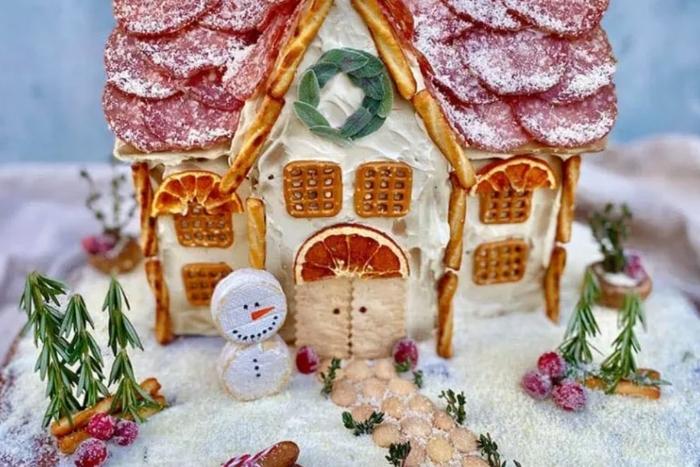 This charcuterie chalet is the definition of refined and sophisticated. Meg, the creator of the Ain't Too Proud to Meg blog, made her own charcuterie chalet using cream cheese as actual spackle for the exterior of her walls. You don't just have to use it for glue – get creative! We personally love the little touches she created with fresh herbs. A fresh sage leaf garland, rosemary evergreen trees in the parmesan snow, and little pieces of thyme as plants lining the marcona almond cobblestone walkway. Click here to learn more about how Meg made her own charcuterie chalet.
LOW CARB KETO CHARCUTERIE CHALET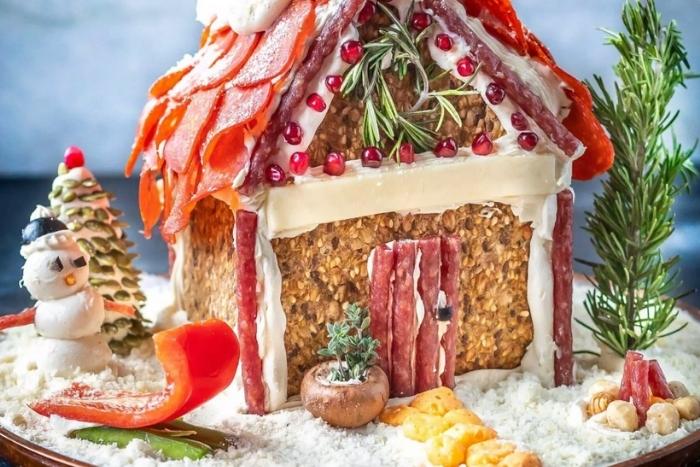 The blog Cast Iron Keto brings us this delectable looking low carb charcuterie chalet. No need to go without making your favorite festive scene because you cut the carbs! The biggest substitution you need to make here is just using low carb or keto friendly crackers – other than that – the typical cheeses and meats work perfectly to fit the keto diet. Just be careful of what decor additions you use. What we really love about this charcuterie chalet is their use of different meats – who doesn't want a diverse portfolio of salted meats to help them get through the holidays?! Click here to learn more about how they made their own charcuterie chalet.
EVERYTHING'S BIGGER IN TEXAS-STYLE CHARCUTERIE CHALET
Jazzmine, creator of A Dash of Jazz blog, created this text style charcuterie chalet with a queso swimming pool in the backyard! Adorable and delicious! She uses pecans, native to Texas, as her cobblestone path and uses fresh broccoli for her lawn because they don't get a white Christmas down in Texas y'all! Click here to learn more about how she created her Texas-style charcuterie chalet.
OLIVE PENGUIN WITH WASABI PEA AND POMEGRANATE ORNAMENTS
Lori, the creator of Foxes Love Lemons blog, is a culinary school graduate so it's no wonder she used all of her skill to create a magnificent charcuterie house. Her artful skill brings us this adorable penguin made out of black olives. She also uses wasabi peas and pomegranate arils to create festive ornaments stringing the frame of her charcuterie chalet. And, of course, a sprinkling of parmesan as our savory snow! Click here to learn more about how Lori created her fromage cottage.
A VEGETARIAN TAKE WITH A VEGGIE LODGE
Chloe, creator of the It's Written on the Wall blog, created a vegetarian charcuterie chalet using fresh crudité and cream cheese. Our favorite part about the use of more vegetables in a charcuterie chalet is the different colors they add! She used carrots as if they were Lincoln Logs and celery sticks as the slats for her roof. Mushrooms make for a perfect chimney. Click here to learn more about how Chloe created her crunchy and colorful vegetarian charcuterie chalet. She even includes more winter scenes created from veggies like a bell pepper ice skater on cauliflower rice snow!
A STUNNING MEAT MANSION USING MATZO FOR THE WALLS
Instead of using crackers for the walls of her charcuterie house, Felicia, the creator of the Starving Chef Blog, used matzo crackers with room temperature cream cheese. What a great use of leftover matzo! She also uses a wooden stump as the base of her creation, a super nice touch that really sets the tone of the winter wonderland vibes. The best part though? She used little fresh mozzarella balls to create her snowmen – wow! Click here to learn more about Felicia's process.
A VEGAN VEGGIE VILLA WITH UBE CRACKERS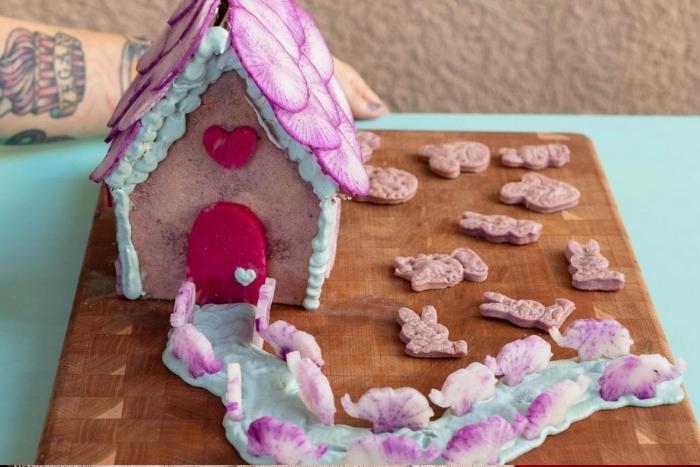 Robin, the creator of the Vegan Dollhouse blog, created this gorgeous and colorful vegan villa using home made ube crackers, vegan cream cheese dyed with natural spirulina powder, purple daikon radishes, and watermelon radishes. Healthy and beautiful! Click here to check out Robin's full rundown on how she made this vegan charcuterie chalet!
Weren't those gorgeous?! Man, writing this post made us hungry!
Don't forget to check out Avital's Charcuterie Chalet Kits here. It's an all inclusive kit that contains all the ingredients, tools, and blueprints you need for an incredible, creative self-guided experience!