11 Most Instagrammable Restaurants in San Francisco
August 1, 2022
They say a picture is worth a thousand words. We think that a beautiful food pic is worth a billion! We all know that the most instagrammable restaurants in San Francisco get so popular because they not only serve delicious food, they serve beautiful food that makes our Instagram grid that much more beautiful and enticing. There's even scientific research to back up the idea that the prettier the dish, the better it tastes.
Below we served you up some of our favorite most instagrammable restaurants in San Francisco. An amazing instagram shot never tasted so good. And, don't be afraid to pick more than one – these are worth the trip.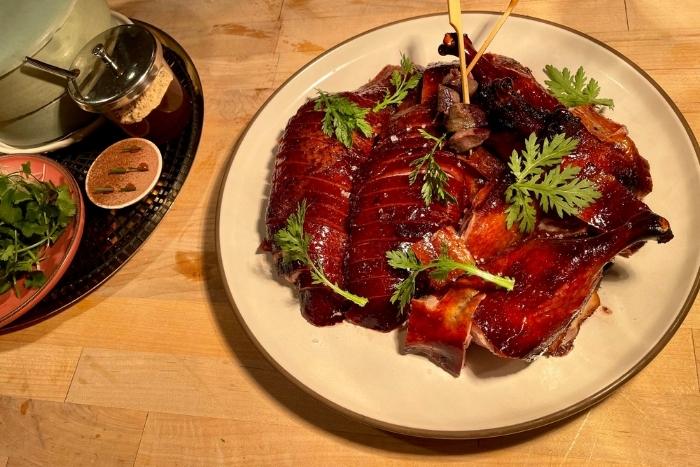 Mister Jiu's
Mister Jiu's just won a James Beard award for their cookbook, "Mister Jiu's in Chinatown" and their reputation does not exceed them! From the moment you walk into executive chef Brendan's establishment you know you will be taken on a sophisticated culinary journey. Based out of his renovated Chinatown dining hall turned Michelin star restaurant, their lush dumplings dyed with natural beet and spinach juices to roasted duck with all the fixings will knock your socks off – plus, their plating is gorgeous. Be sure to try their deep fried take on a scallion sourdough pancake with soubise and house dehydrated green onion powder. And, don't forget to try their spectacular cocktails – their mixologist on staff is extraordinary.
Why we think it's one of the most instagrammable restaurants in San Francisco: With their beautifully decorated interior in the heart of Chinatown and delicately plated Michelin star dishes – this is one of our faves.
Ernest
Ernest is a restaurant tucked away in a quiet part of the Mission District in San Francisco.
From their website: "Experience a market-driven menu with intense global flavors that reflects the way that Chef loves to eat — fun and approachable, yet refined with elegant layers of familiar flavors done in a new way. Grab a beer and a snack at the bar or taste your way through our menu in a relaxed, fun environment."
This description does not even encompass how deliciously beautiful these plates are. And on top of the fact that it's in a minimal, trendy and inviting space? Your pictures are going to pop baby!
Why we think it's one of the most instagrammable restaurants in San Francisco: Its hip and clean presentation and unique dishes will definitely be a star on your grid. We recommend trying the tasting menu to get the most variety in your shot.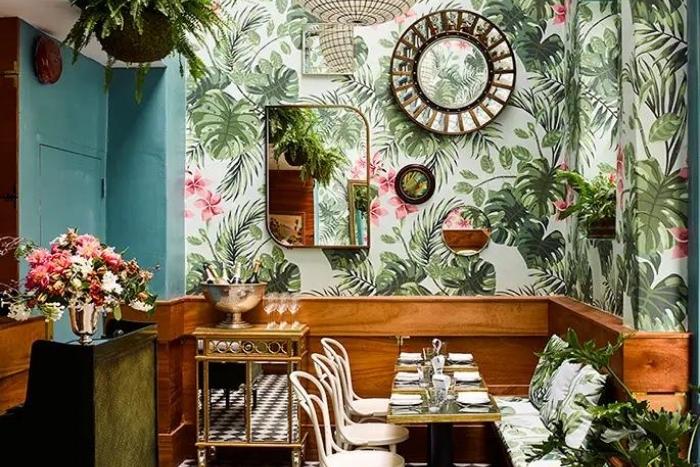 Leo's Oyster Bar
If you choose to take our recommendation on Leo's Oyster Bar, you will recognize immediately upon entering why we made this a rec for our instagrammable restaurants list. From the elaborate wallpapers, mirrors, marble countertops, and warm lighting, this place is straight out of a Wes Anderson film! Plus, we think the food and seafood offerings are fantastic. Champagne and raw seafood tower anyone?! https://leossf.com/reopening/
Why we think it's one of the most instagrammable restaurants in San Francisco: Their spectacularly decorated interior only heightens their incredible seafood towers.

North Beach Progressive Tour
Visit four instagrammable restaurants in one afternoon with an amazing guide leading the way. An Avital Tours progressive meal will take you to four different spots for two appetizers, an entree, and a dessert – all at iconic North Beach eateries that will show you the culture of the Italian community and Gold Rush history. Click here to sign up for a progressive meal tour in North Beach.
Why we think it's one of the most instagrammable restaurants in San Francisco: Not just one restaurant, but four. See some of the most classic takes on Italian cuisine and culture and transport your followers to another place and time.
House of Prime Rib
Talk about being transported to another time! The iconic House of Prime Rib has been operating the same way since back in the 1940's – and you can feel it the moment you walk in. This English style steak house pulls out all the stops in their dim lit, leather boothed, bookcase lined, and comfy chair ridden den like interior. Try their bright green, classic style Appletini and definitely don't miss their namesake, the prime rib. It comes with all the fixings including a tossed salad tossed table-side on a bowl of ice – a feat of which your followers will surely be envious!
Why we think it's one of the most instagrammable restaurants in San Francisco: You'll feel like you've stepped into another time as you set your eyes upon some of the tastiest prime rib and English popovers while you pose in front of one of their red booths and wood paneled walls.
Dragon Beaux
Dragon Beaux in the Richmond District of San Francisco is a Chinese eatery focusing on dim sum, tea, and hot pot. They've really put themselves on the map for their multiple flavors of xiao long bao – the super trendy soup dumpling that has taken over the nation (they're even in the freezer department at Trader Joe's now!). Dragon Beaux's special twist? Not only do they have multiple flavors but they all come in vibrant colors that represent their fillings – all together they call it the rainbow soup dumpling order!
Why we think it's one of the most instagrammable restaurants in San Francisco: With their multicolored xiao long bao amidst your other dishes your feed has never looked better.
Tonga Room
The Tonga Room is the Disneyland of tiki bars – at least we like to think so. Located at the bottom of the famous Fairmont Hotel on Nob Hill in San Francisco – you can even take a trolley to this spot! This tiki bar and restaurant pulled out all the stops to create an unforgettable tiki experience. Walk in and view the expansive room with incredibly high ceilings and sit at a table surrounding their central lagoon (it used to be the hotel's swimming pool back in the day) with a live band floating on a boat in the center. Periodically fake rain and thunder will pass through to create an absolutely tropical atmosphere.
Why we think it's one of the most instagrammable restaurants in San Francisco: From the floating live band on their indoor pond to the simulated rainfall and thunder that passes through – you will be treated to tiki drinks, dinner, and a show!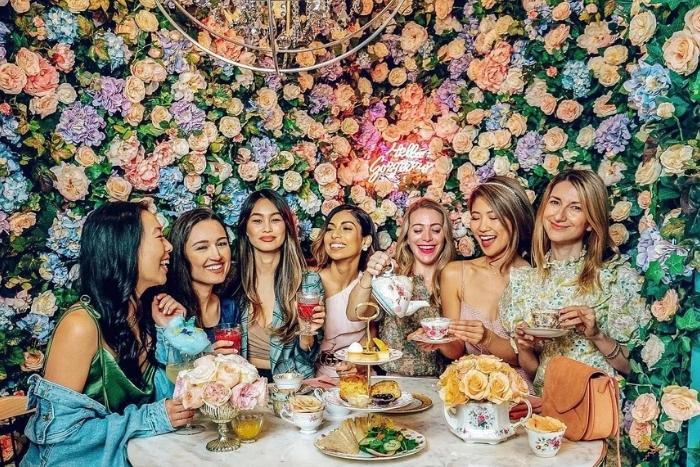 Son and Garden
Son and Garden is so much more than just a breakfast restaurant – it's literally an Instagram experience in a sit down meal. Blooming flowers shoot out of the walls and ceiling in vibrant and colorful bouquets. Pastel pink velvet seats with blue wallpapers – this place was made for your Instagram feed. And not only the interior and ambience, the food! It's absolutely gorgeous. From green matcha pancakes to decadently plated apps and sides – you might not want to take pictures anywhere else you eat ever again!
Why we think it's one of the most instagrammable restaurants in San Francisco: As we said a picture is worth a thousand words, just take a peek at a few images they have on their website and you'll know that this place is hard to beat Instagram-wise.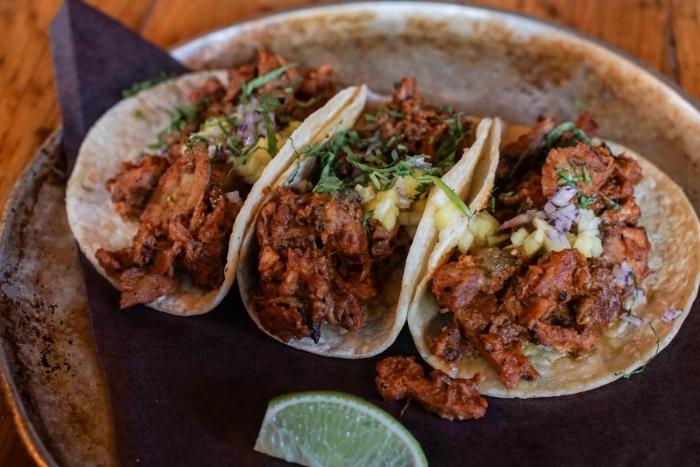 Mission District Progressive Tour
Visit 4 instagrammable restaurants in one afternoon! The Avital Tours Mission District Progressive Tour takes you to four different restaurants in just one afternoon. From mouth watering tacos to southwestern queso to artisanal and creative icecreams – this tour will show you and your followers all there is to take in at the Mission District! In between each dining establishment you'll learn more about the neighborhood, history, and culture. Talk about bang for your buck – and your feed!
Why we think it's one of the most instagrammable restaurants in San Francisco: Four restaurants in one afternoon – talk about building up some picture collateral! Plus, the trendy and hip Mission District offers an eclectic mix of old school local restaurants and newer, more modern spots to make it easy to diversify your feed.
Lazy Bear
With two Michelin Stars and an award of excellence from Wine Spectator, Lazy Bear in the Mission District considers itself one of the most distinctive dining experiences anywhere – and we agree. This is the type of place where, weeks later, you'll go back to your own Instagram page and the stunning yet whimsical presentation of their food will force you to make another reservation. Think bejeweled and lacquered tomatoes and fruits arranged just so in a bowl with painstakingly placed microgreens or a bouquet of flowers in a crystal clear tea pot ready to pour with delectable aromas of the liquid within. Their menu changes constantly and reflects the nature and diaspora of America and its terrain. Along with each dish you get a tasting card so you can take notes on your experience.
Why we think it's one of the most instagrammable restaurants in San Francisco: When we talk about experiential dining – this takes the cake. Show your followers what they're missing out on.
Tea House at the Japanese Tea Garden
The Golden Gate Park of San Francisco is over 3 miles long and half a mile wide. Inside its green boundaries are different amusements and attractions for people to enjoy. One of them, tucked away near the de Young Museum, is the Japanese Tea Garden and its Tea House. Sit by the tranquil waters and take in the meticulously designed and cared for Japanese garden with plants and designs that evoke the Japanese culture and landscape. We suggest you try a tranquil cup of tea and some classic Japanese dishes while you sit and meditate on the beauty of this secret garden.
Why we think it's one of the most instagrammable restaurants in San Francisco: The natural setting of the Japanese Tea Garden in Golden Gate Park alone is worth a post on your Instagram page. Adding the simplistic and traditional Japanese cuisine and tea will speak to the green, serene, journey you've taken.
There you have it! Our top list of the most instagrammable restaurants in San Francisco. And a few progressive tours where you can try four different snap worthy restaurants in just one afternoon. No matter what you choose, we know you'll take some gorgeous pictures, and eat some amazing food.