Self-Guided Walking Hayes Valley Food Tour
March 26, 2016
While many neighborhoods in San Francisco are known to be culinary meccas, Hayes Valley has never been as popular as some regions, like the Mission. However, in the past year or so, Hayes Valley has quietly become something of a food destination. The rectangular neighborhood extends West of Van Ness until Webster and is enclosed by Market, Hermann, and Fulton Streets—although the best restaurants and shops are dotted along only a few of the busiest streets. Unlike the rest of San Francisco, Hayes Valley is a completely flat neighborhood, so you won't have to trek up any hills while on this Hayes Valley walking food tour. Start with a late lunch, around 2 pm and take the next several hours to eat and drink through the best of what Hayes Valley has to offer, outlined below.
This walking Hayes Valley Food Tour will take approximately 3 hours. You'll begin with a warm up coffee and then head to 2 appetizer stops, an entree stop plus dessert.
Artis Coffee
Arlequin Cafe
Two Sisters Bar and Books
Petit Crenn
Smitten Ice Cream
1) Artís
Start your Hayes Valley food tour with a welcome drink at a cozy little cafe with a few bistro tables out front. At Artís, they roast the finest beans (from sustainable and ethically sourced farmers all over the world) live to deliver the freshest coffee available. The friendly staff loves to talk about coffee, so if you have questions about brewing the perfect pot at home, now is the time to ask them. Order a cappuccino or a vanilla latte. They make their own vanilla syrup in house for the lattes and the lovely fragrance of vanilla permeates the brightly lit space. Address: 537 Octavia Street (in between Ivy and Grove); Phone: (415) 655-3576.
Begin your tasting tour with lunch at Arlequin Cafe. The charming all day spot from the Absinthe Group has one of the best back patios in the city. On a warm day, it's a great place to enjoy a leisurely lunch. There's something for everyone on the menu, from a pastrami-packed reuben sandwich on sliced rye to a roasted beet salad with blood orange, toasted almonds, and feta cheese. It's a casual spot where you order at the counter, but the food is satisfying and delicious. The cafe is connected to Arlequin Wine Merchant, a lovely little wine shop that has an excellent selection of bottles. You can pick one out and drink it with your lunch next door, or simply sample a single glass from their collection. Address: 384 Hayes Street (near Gough); Phone: (415) 626-1211.
As the sun begins to set, you may find yourself getting thirsty for a drink that's a little more potent along with some bites. If that's the case, head up Hayes Street to Two Sisters Bar and Books. The quaint little watering hole has an old school vibe: there's light pink wallpaper covered in an old ship design, shelves with vintage books, wooden bistro chairs, and moody lighting. Despite the dark appearance, the bar is actually quite inviting and intimate. It gets pretty packed, so you may have to scout a spot at the bar or one of the tiny round tables that dot the wall. Order a classic cocktail, like the Last Word, a mixture of gin, lime juice, chartreuse, and luxardo, or a more exotic concoction like their Smoke & Flowers, which combines hibiscus-infused tequila with mezcal, lemon, lime, and salt. Note that the bar is cash only, so come with change or be prepared to hit up the ATM. Address: 579 Hayes Street (at Laguna); Phone: (415) 863-3655.
4) Petit Crenn
What's that, you're hungry? How about a French meal from one of America's most illustrious female chefs? Petit Crenn, from chef Dominique Crenn, is a block up Hayes Street. There are two dining options available at Petit Crenn. You can pull up a stool at the chef's counter (a small bar of 10 seats) and order dinner off the a la carte menu or make a reservation in advance for the five-course tasting menu. The all-seafood-and-vegetable price fix has two seatings nightly at 6 pm and at 8:30 pm. At $79 per person, it's a steal of a deal for the quality and caliber of food that's being served. Plus, the meal ends up being more than five courses if you add on the extras that come with it. On a recent night, here's what it consisted of: oysters with apple cider gelée, Parisienne gnocchi with black trumpets, grilled market fish, butter bean casserole with Swiss chard and smoked breadcrumbs, charred brassica, kettle gems salad with caper-anchovy vinaigrette, fromage, citrus tart with Italian meringue, and mignardises. Address: 609 Hayes Street (at Laguna); (415) 864-1744.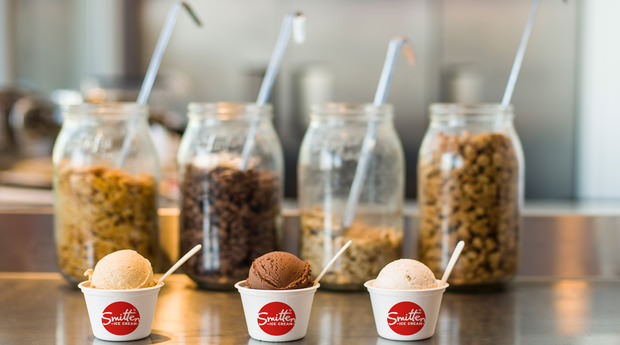 While you might have been tempted to order a brownie or cookie from the scrumptious-looking pastries at Arlequin, resist the urge to order dessert. Arrive at Smitten instead. Why? Because Smitten, is quite possibly the best ice cream you'll ever taste. In 2006 Stanford business school grad, Robyn Sue Fisher, developed a patented technology for a machine that uses liquid nitrogen to freeze small batches of artisanal ice cream. She put her machine on top of a Radio Flyer wagon and hit to the streets of San Francisco where she developed a cult-like following for her insanely creamy, made-to-order ice cream. Today there are six Smitten locations throughout the Bay Area, with the original one located in Hayes Valley across the street from the Patricia Green. The seasonal flavors change per month. In March there's a delectable lemon gingersnap on the menu along with their core base of rotating flavors like Tcho chocolate, classic vanilla, cookie dough with pretzels and chocolate chips, and Earl Grey with milk chocolate. Smitten makes a bunch of tasty mix-ins: brown sugar caramel, strawberry prosecco sauce, and oatmeal cookie crumble, to name a few, so you may be tempted to build your own sundae. They also make vegan popsicles that are so creamy and rich you would never guess they were diary-free. Address: 432 Octavia Street #1A (at Linden); Phone: (415) 863-1518.
Hungry for more of Hayes Valley? Here are some other noteworthy spots.
*Monsieur Benjamin Upscale French cuisine from a Thomas Keller protege. Address: 451 Gough Street (at Ivy); Phone: (415) 403-2233.
*Absinthe French bistro fare at its finest in bustling and lively atmosphere. Address: 398 Hayes Street (at Gough); Phone: (415) 551-1590.
*Biergarten A German style beer garden with plenty of picnic tables and sausages for a leisurely afternoon of beer sampling. Address: 424 Octavia Street (at Fell); Phone: (415) 252-9289.
*Fatted Calf High quality meats by one of San Francisco's most well known butchers, Taylor Boetticher. Address: 320 Fell Street (at Gough); (415) 400-5614.
Enjoy our Hayes Valley Walking Food Tour? Join one of our Mission food tours. Come Eat with Us!