Seafood Happy (and Happiness) Hour near Alamo Square at Bar Crudo
July 7, 2016
Happy Hour at Bar Crudo is recommended by Culinary Guide, Hana Nobel
Happy Hour at Bar Crudo is one of the best oyster deals in the city. Happy Hour is every day between 5 and 6:30 pm. Selected oysters and herb and jalapeno marinated mussels are 1 dollar, but other Bar Crudo seafood dishes are also heavily discounted. Manila clams, seafood chowder, and rock cod tacos also have happy hour pricing. A daily beer and two daily wines are also on special, so it's easy to have some appetizers and drinks and walk away with a reasonable bill.
The Place: Bar Crudo is located near Alamo Square in a happening section of Divisadero Street. Inside is a raw bar and some standing tables downstairs, and seating upstairs. The restaurant has been in Western Addition since 2005. Bar Crudo, as the name suggests, focuses on seafood.
The Dishes: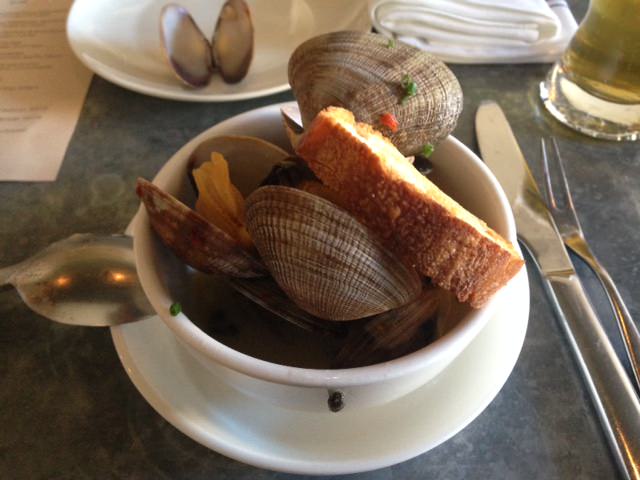 – Oysters on the Half Shell: The happy hour oysters change, but some are consistently on the regular menu including Kumamoto, Miyagi, Sea Cow, Naked Cowboys, Kush, and St. Simon. Herb & Jalapeno Marinated Mussels: these mussels come from Maine and are available on the happy hour and regular menu. Warning: they're raw.
Manila Clams: round out your bivalves with steamed manila clams and dip some bread into the broth.
Seafood Chowder: this chowder comes in two sizes, but the small is a good size since it's so rich and creamy. The soup comes packed with fish, mussels, squid, shrimp, potatoes, bacon and cream.
The Crudo Sampler: four bites of different crudo. Try the Arctic Char with horseradish crème fresh and wasabi tobiko, Scallop with pickled corn and chili, Tombo Tuna with citrus, chili, fennel, and black tobiko, and Butterfish with grapefruit and pink pepper.
The Drinks: Bar Crudo has a variety of draft and bottled beers, wines, sparkling wines, and digestifs. Draft beers change regularly. Each day a different red and white wine and beer is on happy hour special.
Key ingredients: Seafood: Crab, oysters, clams, mussels, prawns, scallops, octopus.
Other Menu Musts: Seafood Platter: If you're looking to splurge, go for a platter with oysters, mussels, prawns, clams, and a half crab. The Lobster Beet Salad, Shellfish Stew, Roasted Crab
Insider Secret: This is right down the street from the Divisadero Bi-Rite, so if you're craving something sweet, stop by for ice cream after. Bar Crudo is across the street from the Independent concert venue and also close to the Fillmore venue, so it makes a great pre-show meal.
The Details:
Bar Crudo
655 Divisadero St, San Francisco, CA 94117
415-409- 0679
Hours: Tue-Thurs, Sun: 5-10 pm, Fri-Sat: 5-11 pm, Monday: closed
barcrudo.com
Enjoyed Happy Hour at Bar Crudo? Looking to learn more about the NoPa neighborhood? Why not enjoy our Self-guided NoPa Walking Food Tour.