5 Group-Friendly Restaurants in NYC
May 10, 2018
Group dinners can be a nightmare. It's good to have a list of spots that can fit your crew for birthday dinners, family get-togethers, and reunions. Here are 5 group-friendly restaurants in NYC. Use it as a cheat sheet for the next time you're asked to plan an event.
Birds Of A Feather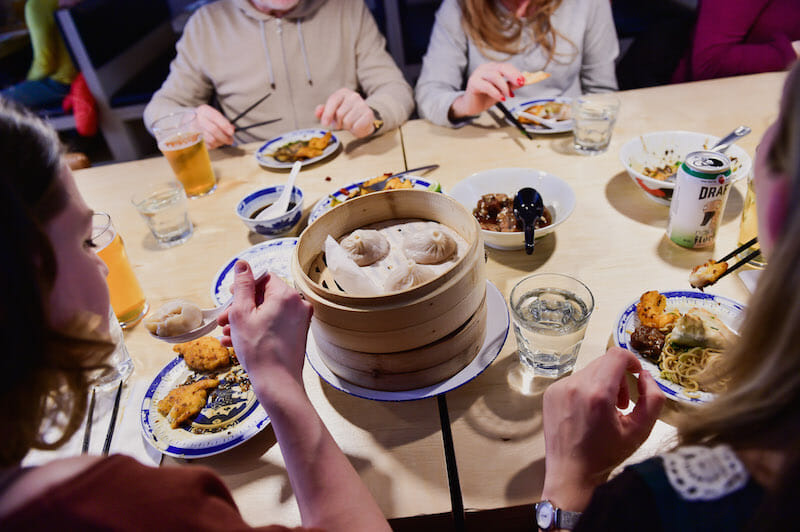 In the mood for Chinese food? This is one of our favorite Brooklyn spots and is perfect for sharing because you'll want to try everything. The menu at Birds of a Feather is large enough for anyone in your party to find something they like and probably two to three things. Don't leave without eating the soup dumplings (Crab Soup Buns) and Dan Dan Noodles which come in portions that are meant for groups.
www.birdsofafeatherny.com/
191 Grand St, Brooklyn, NY 11211
Her Name is Han
If you're in NoMad with no idea where to eat with your group, head to Her Name is Han. The "Korean soul food" spot will make you feel like you're eating a home-cooked meal made by someone's Korean mom. Despite it's medium size, the restaurant takes reservations for up to 20 online so you'll have plenty of mouths to split bulgogi hot pots, octopus fried rice, Kalguksu noodles, and bowls. The menu encourages sharing and reads, "Share a pot, ease your heart." You're also going to want to split the kiwi sowuju to please your heart and tastebuds.
www.hernameishan.com/
17 E 31st St, New York, NY 10016
Huerta's
Instead of shoving everyone into your favorite tiny tapas bar, head to Huerta's where you can rent out the dining room and book large party reservations for dinner, lunch, and brunch. Huerta's has a menu specifically for large parties so your group doesn't even have to worry about ordering. Or the pintxos (small bites) are great for ordering in mass.
www.huertasnyc.com
107 1st Avenue, New York, NY 10003
Momofuku Ssäm Bar
Like many of David Chang's restaurants, going in a group is better because he offers some dishes that only come in giant portions. At Momofuku Ssäm Bar those options are the Bo Ssäm, Whole Rotisserie Duck Ssäm, Seven Spice Brisket Ssäm, or Dry Aged Ribeye. The dishes run between $175 and $295 per group. There's also a prix-fixe lunch or dinner menu for large groups that include desserts by Milk Bar.
www.ssambar.momofuku.com/
207 2nd Ave, New York, NY 10003
Veselka
Though you're only in the East Village you'll feel like you're in Eastern Europe at Veselka. If your group wants all the perogies it can handle, you're in the right place. This Ukrainidan restaurant serves up the dumplings with a variety of fillings (potato, cheese, meat, sweet potato, sauerkraut and mushroom, and arugula and goat cheese) so you can order a few dozen and split them accordingly. Potato pancakes, stuffed cabbage, goulash, and combo plates can also be easily split.
www.veselka.com/
144 2nd Ave, New York, NY 10003
Want to learn about more group-friendly restaurants in NYC? Book a public or private culinary experience and have a local guide show you around NYC.