Where To Find Mouth-Watering Eats Near LA Live
April 3, 2018
Maybe you're staying at the JW Marriot and want to eat something else besides room service cuisine. Maybe you went to a Lakers game and need some post-game grub. Or maybe you just ended up in Downtown LA and are looking for lunch. In these situations and more, it's important to know where to find mouth-watering eats near LA Live. Yes, there are a bunch or restaurants right in LA Live (the best of which might be Katsuya), but if you go a bit outside of the complex, there are many more delicious options.
Super Close
If you need something quick and want to go no more than a mile, stick to these suggestions.
Looking for an old-school LA institution? The Original Pantry Cafe is just .2 miles from LA Live and open 24 hours so you can pancakes, a cheeseburger, or coleslaw any time of the day. Walk just .3 miles to Broken Spanish for tamales, tostadas, and more. Two restaurants, one on the roof (Upstairs) and one in the lobby (Best Girl), are .6 miles away at the Ace Hotel Downtown. One of our favorite Brazilian restaurants WoodSpoon is worth the .7 mile walk, especially for the croquettes and cinnamon-filled sangria. If you're searching for a Filipino restaurant, the hole-in-the-wall RiceBar is just .8 miles away, but know that there are only about 6 seats. For great Vietnamese food (and more chances to sit) head to Little Sister which is a .7 mile walk. Seeking tacos? The renowned ones at B.S. Taqueria are just .8 miles away.
A Bit Of A Walk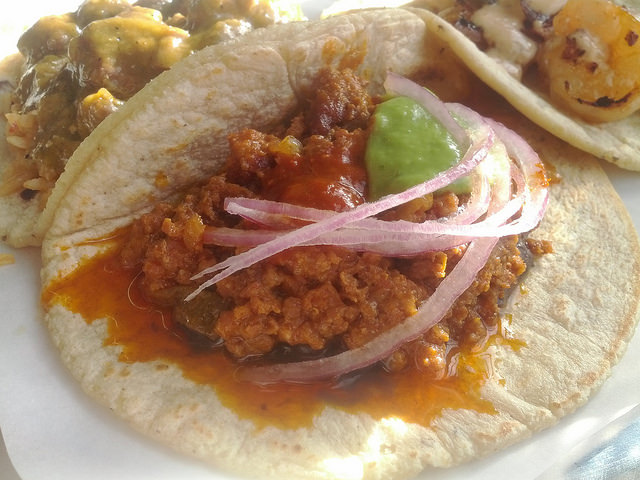 These restaurants aren't "far", but they are over a mile. We know that everyone says no one in LA walks, but in DTLA they do. If it's too far, you can also take a bus.
Cole's claims they are the originator of the French Dip Sandwich, but so does nearby Phillippe's. Cole's is closer to LA Live at 1.1 miles, though. Come by for happy hour specials, killer French Dips, and the best garlic fries in Downtown. The closest Guisado's location to LA Live is the one in the Spring Street Arcade (1.4 miles). Come for the mole poblano and stay for all the other braised meat tacos. LA sushi staple Kazu Nori serves up some of the city's best hand rolls just 1.3 miles away. Equidistant is Bäco Mercat, one of the restaurants from Josef Centeno and a DTLA favorite.
A Little Further
If you're looking for the hub of mouth-watering eats near LA Live, we have lots of great food under one roof. Head to Grand Central Market (1.6 miles) to wander the food stalls and make sure to stop at G&B Coffee and our new favorite, Sari Sari Store. If you're there early, try Eggslut's breakfast sandwiches or bagels at Wexler's Deli.
Looking for someone to show you where to find mouth-watering eats near LA Live and beyond? Let us show you around and give you recommendations. Join us on a Downtown Culinary Tour to learn more about the history of the neighborhood and eat four courses.