Cute Date Ideas for Wintertime in New York
December 13, 2017
Though piling on layers can be a hassle, there's nothing more beautiful than NYC covered in snow, holiday lights, and festive window displays. These cute date ideas for wintertime in New York will warm your heart, even when it's below 30 degrees.
Have a Night at the Museum
You've seen the movie, now experience is yourself. Hibernate from the chilly weather and spend a whole night (yes, a slumber party) at the American Museum of Natural History. Join a "grown-ups" only night, and let your inner child loose. From a champagne reception to a buffet dinner, to live music, and breakfast, the planning is taken care of. Just bring your sleeping bag and a sense of adventure for one of the quirkiest dates ever.
Get Tropical at Brooklyn Botanic Garden
Go on a tropical date without having to leave the five boroughs. Even in the middle of winter, there's warmth to be found in Brooklyn. The Aquatic House at the Brooklyn Botanic Garden houses tropical plants, so the glass-enclosed environment is downright balmy. You can also visit the Steinhardt Conservatory's pavillions where rainforest weather lasts all year long
Drink Hot Cocoa and Visit the Holiday Windows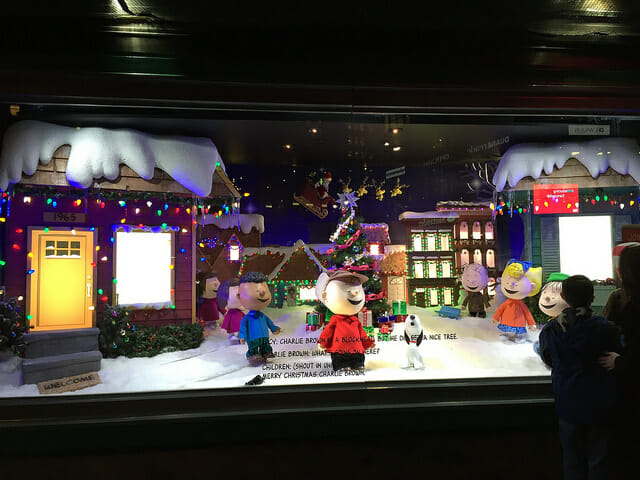 It's no secret that The City Bakery has one of the best cups of hot chocolate in New York. Grab it to go (and don't forget the homemade marshmallow) and walk up 5th Avenue to see the department stores windows. Is it cheesy? Yes. Is it touristy? Sure. But it's a classic NYC cute date idea in wintertime date. If you're really in the spirit head all the way up to Rockefeller Center and see the tree and watch people who waited hours to ice skate. Go on a weeknight to avoid the crazy weekend crowds.
Warm Up on a Food Tour
Hide from the cold and try NYC's best restaurants on a food tour. Choose from exploring the Flatiron District or East Village. You and your date will visit four neighborhood spots on a progressive food tour that spans from appetizers to entree to dessert. And you'll learn about the history of the neighborhood from local guides. You'll spend most of your time inside at the restaurants warmed up with great food. If you don't want to worry about choosing the perfect restaurant, let us take care of it for you.
Want to join us for a culinary experience this winter? At checkout, use code WINTER for 20% off.
Our culinary experiences are cute date ideas for wintertime in New York, and all year round. Join us for a food tour in the city for an experience that's romantic, fun, and tasty.