3 Cool Things to Do in SF That Even Locals Don't Know About
November 14, 2017
Go beyond what the tour book tells you to do with our list of 3 cool things to do in SF that even locals don't know about.
1. Have a secret dinner at Mr. Pollo.
From the outside, Mr. Pollo looks like a restaurant in need of a facelift. The secret that most locals don't even know is that the Mission restaurant is actually a prix fixe menu that requires a reservation. Mr. Pollo's owners (and only two employees) take reservations via text message. The menu is an ever-changing tasting menu with an arepa course to honor the original Mr. Pollo restaurant, whose name was kept. A four-course tasting menu costs around $30 for four courses. The restaurant is VERY tiny, so you'll be able to chat to the chef from almost any table, which makes it a great culinary experience. (And the food is great!)
2823 Mission Street
text (860) 912–9168
2.Skip the line at SF classics like Bi-Rite Creamery, Sotto Mare, and Tomasso's on a food tour.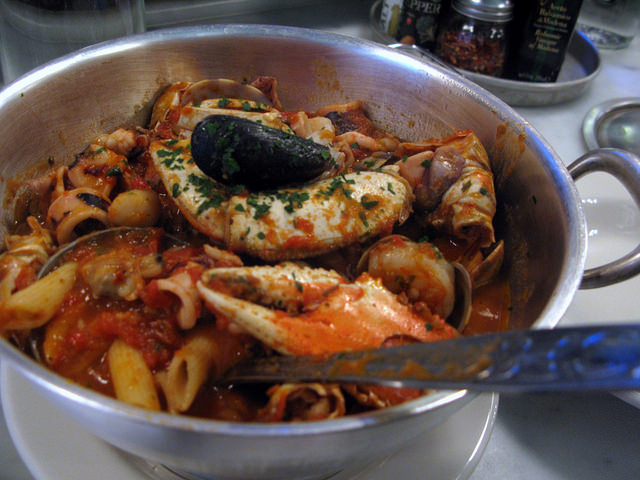 Dining in San Francisco can be an endurance sport when it comes to waiting in line. People stand for a long time on warm days for Bi-Rite's ice cream. And unless you have a party of three or more, you'll won't be able to make a reservation for the best cioppino in the city, so expect to wait. OR, you could join us a food tour and skip the lines. Our experience in North Beach, the Mission, and Union Square all come with a "fast pass" privilege that will make you the envy of hungry customers.
3. See a secret concert.
Every once in a while, secret concerts pop up in Sutro Baths, right by Ocean Beach. They're not always publicly announced, but if you search for "Secret Outdoor Sutro Cave Show" you might find when the next show is popping up. More reliable is the organization Sofar Sounds. Patrons buy tickets in advance, as they do for a regular concert. But don't know where the show is or what kind of music will be played until 24 hours before. It could be rock in a Russian Hill living room, it could be acoustic in a brewery in Dogpatch, or it could be jazz in an empty office building. It's a great way to discover new music and new spaces.
www.sofarsounds.com/san-francisco
Are 3 cool things to do in SF that even locals don't know about not enough? Let us show you around and give you more ideas. Join us on a food tour in the Mission or North Beach to learn more about the culinary history of the neighborhood.