10 Charcuterie Chalet Ideas for Creative Decor
October 27, 2022
Charcuterie chalets have been flooding our Instagrams, Pinterest boards, and just the internet in general the past few years. But what's the trick to really take your structure up to the next level? Here, we've rounded up ten of our favorite charcuterie chalet ideas that will really help your charcuterie chalet, fromage cottage, or veggie villa stand out from the rest.
Sometimes, being inundated with a thing, especially a cute thing, can make one want to create one themselves! And oh boy – is that the case for us here at Avital Tours. Get your Avital: charcuterie chalet kit if you're feeling inspired – this way you don't have to buy all the gear yourself after you've been emboldened to create your own.
Swiss Cheese Snowman
An icon of the holiday season, the snowman. There are a couple options for creating an edible snowman as one of your charcuterie chalet ideas, but let's use cheese since that's the focus of this project . Carve a hard cheese of your choice into two or three circular shapes. Then, stack them using a toothpick to secure in place and decorate to your liking. Get creative and make him a cute little hat! Alternatively, you can also use fresh mozzarella in place of your hard cheese.
Wasabi Pea and Pomegranate Ornaments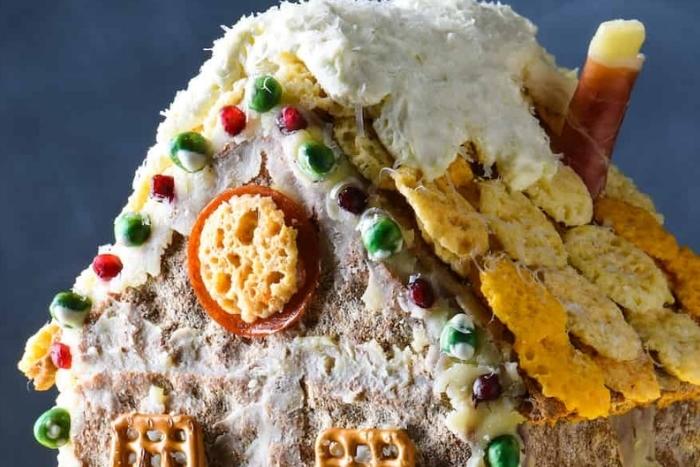 For this charcuterie chalet idea, you should use cream cheese or some sort of spreadable cheese as your "glue". As you would with frosting for a gingerbread house. On the trim of your structure, alternate wasabi peas and individual pomegranate arils to create an ornamented border for your house. Click here to learn more about how the Foxes Loves Lemons blog writer Lori created her fromage cottage.
Rosemary Wreath
What's the holiday season without a wreath on the door? Create your own edible wreath for your charcuterie chalet using dried herbs, fruits, and seeds. Artfully arrange the dried rosemary with other tasty bits, like craisins and seeds, for a festive foliage above the door. Added bonus, use the same technique to create garlands to drape over your new cheesy home.
Breadstick Firewood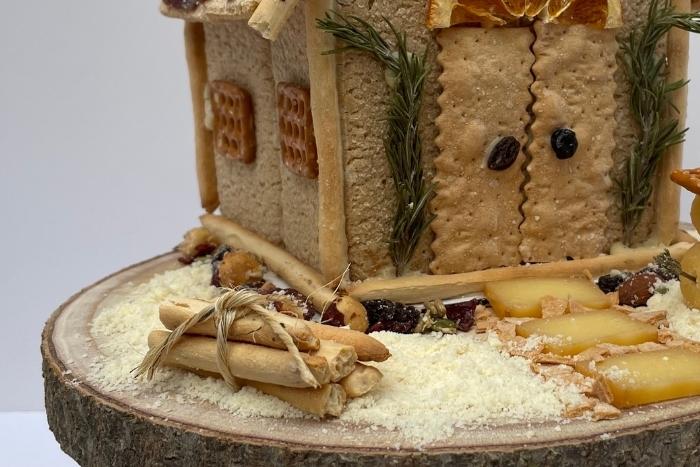 What a cozy little addition to have some firewood stacked by your house! Invite the imagination to envision little cheese people building their fires inside with these breadsticks. Time for fondue! To create your firewood, break apart the breadsticks to create a cozy pile of wood. Tie them with a piece of string for added detail.
Dried Orange Portico
Make a grand impression with a citrusy entry way. Cut a dried orange slice in half, then using piping cheese and breadsticks, secure it over the front door. You can use dried orange and other citrus slices to the same effect. Stained glass anyone?!
Popcorn Snowdrift
What makes a house feel more wintery and festive? Snow of course! Use popcorn to make snow piles that your charcuterie chalet inhabitants can jump into with abandon. Place clusters of popped corn around the base of your house for a fluffy, snowy look. Add some shredded parmesan cheese to heighten the effect.
Rice Paper Icicles
Create some winter whimsy with hand made, edible icicles to add to your fromage cottage. Take a sheet of rice paper and cut out small triangles, keep them all connected at the top. Then, moisten and stick onto your house when flexible.
If you want to take this a step in the crunchier direction, you could create this with egg roll wrappers then carefully fry them before affixing them to your chalet with a spreadable cheese like cream cheese or Boursin.
Radish Shingles
Using a mandolin or a sharp knife, slice your radish evenly and thinly. Then, using your spreadable cheese, shingle the slices onto the roof of your chalet to create savory shingles. A little veggie with all that cheese is probably a good idea! The Vegan Dollhouse Blog used purple and white radishes to go with their color scheme, but you can use red radishes to keep with the classic holiday color scheme.
Broccoli Shrubbery
Is one of your charcuterie chalet ideas to add a little greenery to your yard? We want a winter wonderland, but for some, winter does not equate with a white, snow covered scene! The Dash Of Jazz blog is based out of Texas where that is the case for them. So, they used broccoli florets to create a luscious green yard to set the scene for their Texan Christmas. Note how they also placed rosemary sprigs to act as trees coming out of the broccoli's shorter greenery.
Black Olive Penguin
A great charcuterie chalet idea is to create a penguin out of black olives. Who doesn't love some olives with their cheese board?! Use canned black olives, cream cheese, and carrots to create your penguin.
Use a circular slice of carrot for the base and feet of your penguin. Cut a seam in the middle of an olive longways, fill the seam with cream cheese, and place the stuffed olive vertically on your carrot base using cream cheese. This will be the body. Then, cut a little triangle nose out of your carrot, and stick it in another olive through the cut hole at the bottom of the olive. Stick the carrot stuffed olive on top of the body with some cream cheese so the carrot nose is facing outwards. Your penguin is ready to add to your house!
Click here to learn more about how Foxes Loves Lemons blog created their charcuterie chalet.
Weren't those gorgeous?! Man, writing this post made us hungry!
Don't forget to check out Avital's Charcuterie Chalet kits. It's an all inclusive kit that contains all the ingredients, tools, and blueprints you need for an incredible, creative self-guided experience.