Celebrity Chef Restaurants in Los Angeles
April 18, 2017
Many people come to LA looking for celebrities, but the city also has its fair share of celebrity chefs. From Top Chef winners to chefs that have become household names, you'll likely know the name of the person behind the kitchen doors. Our guide to celebrity chef restaurants in Los Angeles highlights some of our favorite spots.
Bazaar
José Andrés's giant list of restaurants includes three of the best-known celebrity chef restaurants in Los Angeles. SAAM at The Bazaar, Tres by José Andrés, and The Bazaar. All restaurants are located in the SLS Beverly Hills. Chef Andrés is known for introducing the concept of small plates dining the US. He's also famous for his molecular gastronomy. At SAAM can partake in a 22-course tasting menu and try fun and theatrical food-like foie gras cotton candy.
465 S La Cienega Blvd, Los Angeles, CA 9004
http://www.sbe.com/restaurants/brands/thebazaar/
ink.
Top Chefs fans will know Michael Voltaggio as the man who beat out his brother to win the sixth season of the television show. Now Chef Voltaggio is known for his restaurant ink. The menu at ink. is always changing but it has recently featured egg yolk gnocchi and pastrami salmon. Voltaggio also runsSack Sandwiches which feature some of LA's best sandwiches, most famously the cold fried chicken one.
8360 Melrose Ave, Los Angeles, CA 90069
Spago
Wolfgang Puck is one of the most famous celebrity chefs and his Beverly Hills restaurant Spago is one of his best-known restaurants. It's actually the flagship restaurant of the Wolfgang Puck Fine Dining Group.One of LA's favorite chefs, Nancy Silverton, got her big start in pastries at Spago. Now the chef has other restaurants in the city, like Santa Monica's Chinois and CUT in Beverly Hills, but Spago will always be number one.
176 N Canon Dr, Beverly Hills, CA 90210
www.wolfgangpuck.com/dining/spago
Leona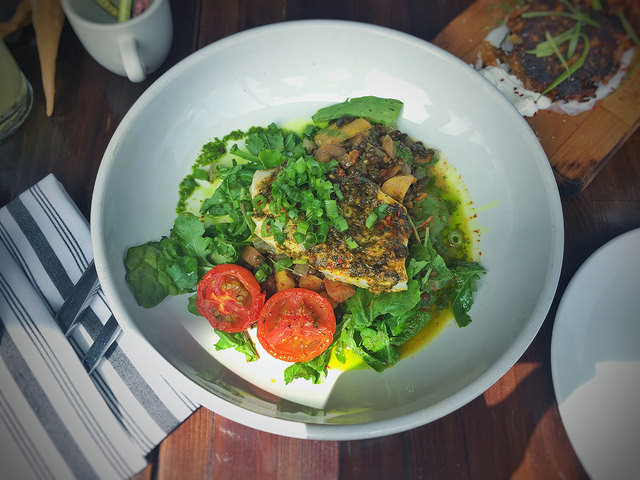 Venice is home to Leona, the restaurant of Top Chef's Nyesha J. Arrington. The restaurant serves small and medium-sized seasonally-driven plates of dishes like lamb belly wontons, potato crusted duck eggs, and roast dumpling squash. And don't forget the attached cookie window. It's open until close so you can split a miso brown butter chocolate cookie for a late night snack.

123 Washington Blvd, Venice, CA 90292
http://www.leonavenice.com/
Join us on a culinary experience in Los Angeles and we'll take you to our favorite restaurants in Venice Beach and Downtown Los Angeles.