13 Best Unique Birthday Gifts Delivery for Women in 2023
June 14, 2021
Whether you get excited about choosing a birthday gift for your special someone or even if you dread it, sometimes hand delivering the birthday gift isn't possible. Perhaps you want it to be a true surprise, live across the country, or have a limited amount of time before the actual birthday. Whatever the reason, delivery is here to save the day. And though we may rely on delivery more than we'd like to admit, some of the best unique birthday gifts delivery exist on the internet! So here's your list of gifts that will make her smile, all available with the ease of delivery.
What are Unique Birthday Gifts Delivery for Women?
Gift-giving can be high stakes, but finding unique birthday gifts delivery for women is bound to impress. These are gifts that show a lot of thought, and come right to her door! And they range from being tangible items to experiences!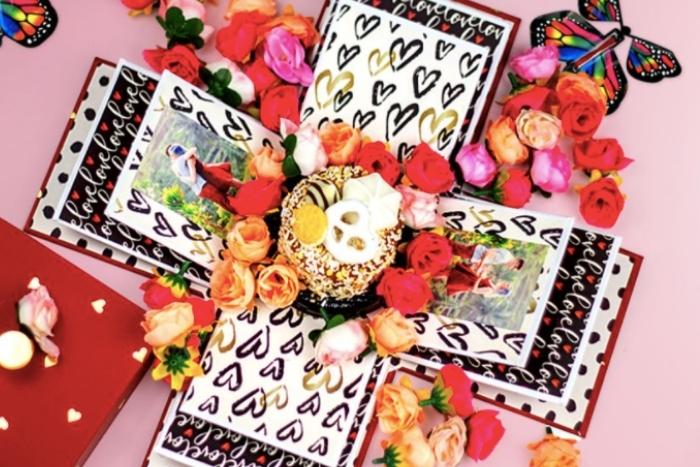 1. Send her a cake explosion
No, not an exploding cake— a cake explosion! What's the difference, you ask? Well first, there are much less safety risks and no legal issues. A cake explosion is simply a colorful gift box that unfolds to reveal more colorful patterns, music, and a cake! If you're looking for something unique, a cake explosion can include anything from tons of candy, flowers, stuffed animals, or a party popper! It's a new way to have your cake and eat it too, plus it's just adorable. Great for the desserts lover in your life!

2. Let her relax with a spa box
Instead of taking her to the spa, send the spa to her! A spa or self-care box might sound pretty standard, but its one of the unique birthday gifts delivery on this is list because there are so many options that are fully customizable. You can find spa boxes full of luxury, or go for a box featuring local products. We recommend starting on Etsy to check out spa boxes from small-business owners that allow for custom engraving, handmade products, and cute packaging.

3. Deliver cocktails right to her door
Birthday cocktails on you! Send your special someone a full cocktail kit with enough ingredients to make two drinks (or mocktails!) as a unique birthday gifts delivery. But the fun doesn't end there— turn your cocktail kit into a virtual happy hour birthday party and invite yourself too! Your virtual happy hour includes a lesson from an award-winning mixologist for a little VIP class on expert drink making. A cocktail kit + personal mixologist+ all your friends and family on Zoom? Priceless.
4. Gift her some of the prettiest, freshest olive oil
We know what you're thinking– fresh sure, but how pretty can olive oil be? Well, Brightland Olive Oil merges art and food with their beautifully designed bottles that could easily sit on your mantle. This olive oil comes from a family-run farm in California, made with the promise to be straight from the earth. The Artist Capsule set features three bottles of flavored olive oils and labels designed by artists. We know that this list of unique birthday gifts delivery is suppose to be for the birthday lady, but we won't be surprised if you end up with a set for yourself.

5. No birthday "sucks" with a succulent birthday box
Sorry, but it's true! A succulent is the perfect plant to send a bit of easy, green brightness without all of the maintenance of a new, bigger plant. It's not everyday you get a succulent in the mail, either. This succulent gift box includes a bath bomb, a heart keychain, a scented candle, and lip balm. Everything you need for some relaxing ambiance. A succulent gift box is a thoughtful gesture, without being over the top.

6. Let her smell however she pleases
Buying someone the right perfume is one of the harder gifts you can give, but what about a DIY perfume making kit? With this Olfafacoery Tinkerer Box, she'll have some popular scents shipped straight to her. From there, she'll be able to mix and match scents in order to customize what scent would be perfect for her to wear.

7. Offer Her Some Adventurous Options with Tinggly
Have any super friends who love to travel and be active? Tinggly offers curated gift packages, usually with active travel options, for those looking. And with this "Superwoman" gift package, she can choose between a bike tour in New York City, or a Minneapolis river cruise. Plus, for every box you buy, they'll pay to plant a minimum of 8 trees as a thank you!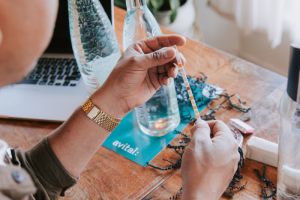 8. Give her a birthday present that teaches her something!
There are many things she can't live without, but water is definitely the highest on the list. And isn't it bizarre how little we know about water? In this virtual water tasting, she'll learn all about what makes water taste the way it does by pairing 5 premium waters (3 still and 2 sparkling) with 2 food pairings, and a water test strip to understand the science. A certified sommelier will chat with her over zoom to walk her through the entire water tasting process, explaining why what tastes as it does. And the best part is that the entire experience can be tried at her convenience–if thats not a unique birthday gifts delivery for women, then it's hard to know what is!

9. Edible Architecture Makes an Incredible Gift
When is the last time you built a house from meat and cheese? Ok, probably never! That's what makes this one of the most unique delivered birthday gifts! The Edible Architecture kit arrives with everything needed to create a charcuterie chalet or fromage cottage, like high-quality spreadable cheese, crisp crackers, cured salamis, and more! It's quirky, it's delicious, it's an awesome birthday gift.

10. Support global artisans around the world
Travel has been put on hold for the past year, but that doesn't mean you can pick up something from across the globe for a great birthday gift. The Little Market puts together beautiful gift boxes filled with products that support different small-business artisans, often connecting to a good cause. Send handwoven kitchen accessories, hand poured candles, beautifully carved wooden bowls, and so much more.
11. Put her Birthday in a Box
Cake is a beloved but conventional birthday treat, and there might be a new way to celebrate. Mouth, a much-celebrated-by-foodies gift basket group, proudly offers their "Birthday in a Box" crate, which is filled with treats crafted by various American artisans. From wild snacks, to famous 'birthday marshmallows' there's no way she won't be thrilled with this delightful box of unique snacks.
12. Send her a potato????
Does she love potatoes? Is she quirky? If the answers to one of those questions was yes, then definitely look into Potato Parcel. This is certainly one of the most unique birthday gifts delivery for women–it's a potato with words or pictures on it delivered right to her door! These packages can be a potato standing alone with a customized message stamped on and a stamp like a postcard, or a potato inside of a gift box filled with her favorite treats. She'll never have gotten anything like it…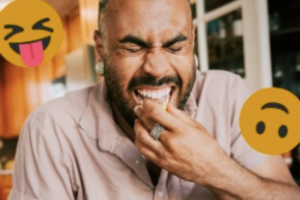 13. Trip Up Her Tongue
Most people have tasted something sour once in their life, but does anyone really understand the mechanics of that sour taste? With this Virtual Tongue Twister Tasting gift, she'll learn all about her taste buds! By sampling miracle berries, citrus, sour candies, and other uniquely flavored things, she'll receive a package delivered to her and a virtual host to guide her through the various twists and turns of this wild tasting! This tasting is a treat for everyone involved.
The best unique birthday gifts delivery can go far past your standard flowers and balloons! You can send some luxury with a spa box, a unique bottle of olive oil, or maybe even a cake that is sure to be the most exciting cake she's received in ages. Birthday gifts don't have to be hard! Especially when there's great delivery options at your disposal.