10 Best Team Building Icebreakers for NYC Companies
January 31, 2020
Picking out the best team building icebreakers for a big meeting, conference, or social event with your workmates can be a challenge. You want something engaging, but not too cheesy, and appropriate for work, but not too boring.
One of our core values is #CreateCommunity, so we understand finding the right balance of fun for everyone is tough, but when you do, the results are worth it. Instead of resorting back to "Two Truths and a Lie", we've rounded up ten of the best team building icebreakers that are not just fun, but help you build a closer team.
First/Worst Job
Remember that summer you worked at a gift shop in the zoo? Turn it into an icebreaker! To play "First/Worst Job", have everyone write down the first job they ever worked, or their worst one (which could end up being the same one, depending on who you ask). Then, the team leader reads out the jobs, and everyone takes guesses to determine who worked at a photography studio helping out with senior portraits and who got their start in a comic bookstore. Naturally, hilarious stories and follow-up questions are encouraged.
Jenga Questions
Everyone's favorite anxiety-inducing bar game is turned into a great icebreaker. Purchase a Jenga set, customize it with your favorite ice breaker questions, and then play Jenga as normal. Each block pulled requires the participant to answer the question. You can also include questions that are relevant to the office culture, like "who do you think has the best coffee mug?" and "what's the best lunch spot nearby?" There are also pre-made Jenga sets with questions on them if you don't have time to make your own, but to really make this one of the best team building icebreakers, we recommend personalizing the set.
Office Trivia
This icebreaker is a good option if your team is welcoming new employees or if you have some clients visiting. Organizing "Office Trivia" is a good way to introduce company culture and values, while increasing knowledge about the company. We also encourage you to include fun questions, like "how many bottles of ketchup are the kitchen fridge?"— a mixture of questions will keep your colleagues on their toes. Feel free to be inspired by pub trivia nights and include adult beverage options.
#EmbraceQuirky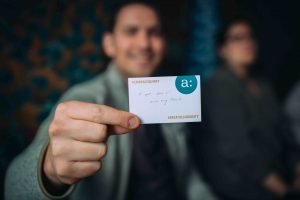 We might be biased, but we think the #EmbraceQuirky game is one of the best team building icebreakers out there. Ok, we invented it, but let us explain: During our team building food tours, we ask guests to write down one quirky fact about themselves. This is anything like "I like to eat bananas with chili" to "I have to kiss the plane before I get on it." Everyone has something they do that's a little eccentric, and this game gets people to open up about their oddities. We're all a bit quirky, and that's why we encourage guests to embrace and get to know each other. Plus, eating delicious food certainly helps. If this sounds fun to you, check out our NYC team building food tours. And the best part is, we do the planning for you!
Lost On A Deserted Island
"Lost On A Deserted Island" can be a quick, simple icebreaker, or you can turn it into a robust group activity. Ask everyone to decide on the one item that they would bring if they were stranded on a deserted island, and then explain their reasoning to the group. The answers don't have to be logical — the goal is to get teammates to talk about a thing they couldn't live without that explains more about who they are. To take it one step further, have everyone split into small groups combine their objects to increase their chances of survival. Have them explain their reasonings to the rest of the team.
What's On Your Desk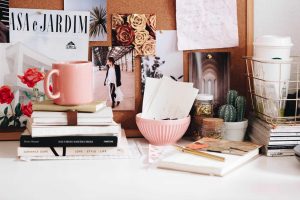 "What's On Your Desk" is one of the best team building icebreakers for creatives. Everyone needs to bring something from their desk, and then act as if it were a new product that they were going to sell. The new products need a name, slogan, marketing plan, and logo, and each person (or team) needs to complete the task in a set amount of time. When the time is up, everyone has to give a presentation on their new product. After everyone has presented, as a group you can decide who best sold their product. Not only does everyone get to share a personal part of themselves by bringing something from their desk, but teams can be inspired by techniques their colleagues used to get creative.
Solve A Murder Mystery
Who doesn't love a good true crime podcast or show these days? Solving a murder mystery as a team is a very engaging activity that helps develop communication, encourages teamwork, and involves little prep from you. There are plenty of options online to purchase a fun murder mystery game from sites such as Team Building Kits. Not all team building icebreakers have to be get-to-know you activities, after all. Immerse your colleagues in a memorable mystery game everyone will enjoy.
This or That
This icebreaker is a good way to get the team involved by having them create their own "This or That" questions. Questions like "Beyonce or Rihanna", "pizza or tacos", and "beach or mountains" can spark camaraderie and friendly debates. It's a classic game, but it definitely helps your team get to know each other better, and is a good 5-minute icebreaker before starting a meeting.
3 Things In 3 Minutes
"3 Things in 3 Minutes" is an interesting take on the "Find Someone Who" icebreaker. Instead of going around and having your colleagues match what they have in common (aside from the obvious things like body parts), add a time limit. Make sure everyone is paired with people they don't know well. Ask the pairs to find three things they have in common in three minutes — they have to complete the task in that timeframe. You can make the challenge shorter or longer, and have pairs rotate partners.
Tell Your Story
The goal of "Tell Your Story" is to not only have groups share more about themselves, but challenge them to be more open about who they are as individuals. Have each team member tell the person next to them something about themselves, such as where they grew up, where they went to college, why they are in this field, etc. After two minutes is up, ask them to tell the same story, but differently. Often in a professional setting we stick to a script about our background, but when asked to tell the same story differently we add more personal details. This helps build empathy, while pushing for creativity.
Still looking for the best team building icebreaker in NYC? Book a food tour! Our private culinary experiences are great team building activities that won't be forgotten. The best part? All you need to do is send us an inquiry and we'll handle the rest.