Get Thrifty! 5 Best Places to Eat in Los Angeles Cheap 
December 1, 2019
It's not new news that Los Angeles is one of the most expensive cities to reside in, but this metropolis comes with amazing perks too. For example, food. Incredible, inventive, delicious food. LA has a plethora of dining options, even when you're on a budget. From hot dogs to tacos, meat and vegetarian options, Los Angeles has one of the most diverse food profiles in the world, fit for every foodie's wallet. Here are the best places to eat in Los Angeles cheap.
Pink's Hot Dogs
Open since 1939, Pink's Hot Dogs is an adorable, well-loved, hot dog stand in the Fairfax district. It opened shortly after the Great Depression when people were still in a major financial crisis. Families could not afford to go out to eat, but they could make an exception for an inexpensive street chili dog. Pink's Hot Dogs is still serving those same chili dogs today! Stop by Pink's and order that famous chili dog for only $4.50! If you have a few more dollars to spare then go for one of their specialty, celebrity-named hot dogs like the "Martha Stewart Dog" or the "Ozzy Spice Dog."
Astro Doughnuts & Fried Chicken
If you're looking for an indulgent breakfast spot, then Astro Doughnuts & Fried Chicken is a must. Known for their unique donuts like the lavender and maple bacon, there is truly something for everyone here. All individual donuts (including vegan donuts) go for $3 dollars or less. Want a heartier breakfast? Order the fried chicken breast with hot sauce and honey butter on a savory doughnut, potato roll, or cheddar biscuit for only $5.75! Timeout named Asto's one of the Top 21 Best Fried Chicken Restaurants in America, and we can see why.
Guerilla Tacos
We all love a good success story, and Guerilla Tacos is a dining establishment that's truly started from the ground up. Guerilla Tacos started as a taco stand as a way to help Chef Wes Avila pay his rent. When his stand was forced to shut down, he bit the bullet and invested in a food truck. By 2018, Chef Wes couldn't supply the demand for his tacos with just a food truck any longer and Guerilla Tacos evolved into a brick and mortar restaurant. Today it's a thriving taco spot known for approachable and unpretentious tacos. All tacos are under $6 dollars, even their prime grilled steak taco! It's a deal you can't pass up.
Sarita's Pupuseria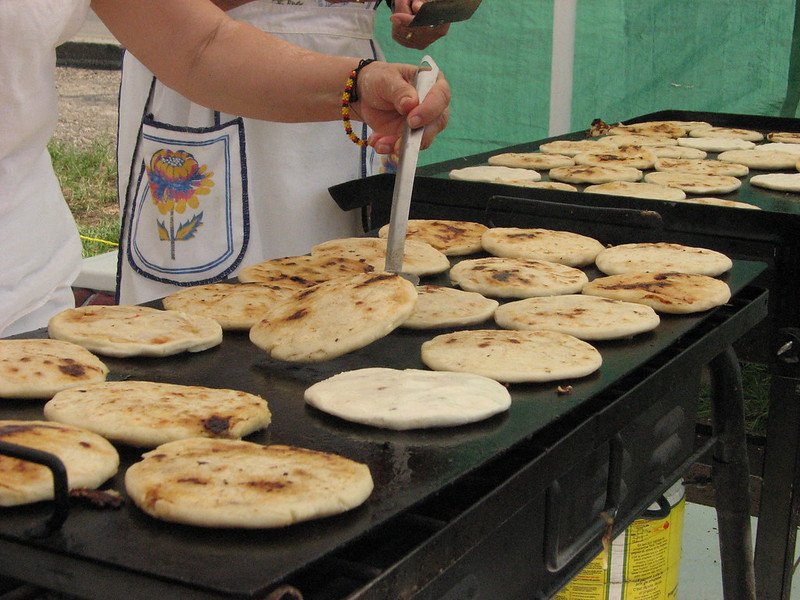 Grand Central Market in downtown Los Angeles is the spot to go for a good deal on authentic food from all around the world. Walk the market and you can feast for well under $10 dollars. One of our favorite stops is Sarita's Pupeseria. Based on traditional family recipes, Sarita's Pupuseria has been wiping up homemade pupusas for years. For $4 dollars you can get one of these homemade delights, filled with savory pork filling or a healthier vegetarian option. Pair it with their fried plantains for the ultimate Salvadorian foodie experience.
Homestate
Los Angeles has some of the most authentic Mexican food in the United States, but that doesn't mean we can't get down with some Tex-Mex. When you're craving a Texas kitchen, head on over to Homestate, tucked in the cozy neighborhood of Los Feliz. This quaint café is the perfect place to dine for cheap. Their cheesy, egg breakfast tacos wrapped up in warm four tortillas are only $3.50. Not feeling an egg taco, then go for one of their everyday tacos like the shredded brisket with guacamole, still only $3.50! Restaurant Owner, BrianaValdez had a mission behind Homestate: to translate the food she grew up with her new hometown. And she's doing it one taco at a time.
Want more of the Best Places to Eat in Los Angeles Cheap? Join us for a culinary tour in Downtown, Koreatown, Hollywood, or Venice and we'll show you our favorites. Schedule your tour today!