11 Best Food Tours In San Francisco
December 1, 2019
There is no better way to learn about the history and culture of a neighborhood than to eat its food. The food, and the people who prepare it, tell a story about the neighborhood. That's why a food tour is one of the best ways to learn about a city. Try different cuisines while getting a tasty, educational experience in the process.
Why Book the Best Food Tours in San Francisco?
San Francisco is one of the most sought after culinary cities in the world and is soaring with food tours. It can be overwhelming to know where to begin. Check out our list of the best food tours in San Francisco, and don't forget to support small businesses by booking directly with a tour provider instead of a large third-party site. From Mexican cuisine, chocolate studios, cozy Italian gems, and amazing Chinatown we've got you covered.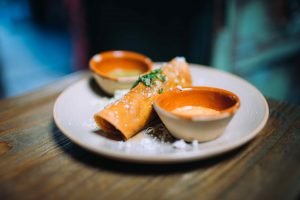 Avital food tours are more than regular old food tour. It's a culinary experience where a local guides you on a four-course progressive meal, sharing stories and facts along the way. The Mission District Food Tour prides itself on being a tour that focuses on quality over quantity. Embark on this culinary experience and you will have the chance to stroll through the historic Latin neighborhood while tasting innovative Mexican cuisine along the way. On this three hour tour, you'll try items such as authentic pork belly tacos, a seasonal sweet potato quesadilla, pupusas, salted caramel ice cream, and more! 
Gourmet Walks – The Gourmet Chocolate Tour
San Francisco is the center of a new wave of artisan chocolatiers. Therefore, a chocolate tour is a must have in the city. We suggest The Gourmet Chocolate Tour with Gourmet Walks. They're constantly experimenting with high-quality beans, new methods of production, exotic fillings, and breathtaking packaging. On this tour you will learn the history of chocolate, chocolate quality categories, the health benefits, and trends. Your tour guide will take you through the streets of San Francisco while you sample seven different chocolates from a variety of local San Francisco chocolate shops. Don't forget your sweet tooth!
Local Tastes Of The City – Chinatown Food Tour
Local Tastes Of The City is a tour company with a passion for living life to the fullest. They believe one of the best ways to do that is through an authentic Chinatown Food Tour. On this three hour tour, you will view statuettes that are thousands of years old, see one of the oldest cathedrals in San Francisco, watch how fortune cookies are made, explore Chinese cookware, and, of course, sample a variety of unique foods. On the Chinatown Food Tour you will have the chance to eat a variety of local Chinese dishes from dim sum, to steamed BBQ pork buns, rice cakes, shrimp dumplings, and so much more!
Food & Farm Tours – West Marin & Sonoma Food Tours

What makes the Bay Area a great eating destination is the surplus of options in and around SF. Head to West Marin or Sonoma for a Food & Farm Tour to enjoy the bounty that is California cuisine. Taste some of the freshest oysters plucked from the water nearby, savor rich and creamy cheeses, enjoy organic veggies in season when they at their most delicious…you'll understand why California produce hits different. Plus, you'll be surrounded by the beautiful farms, water, vineyards, and gorgeous coastline. For the best food tours in San Francisco, you might have to travel outside of the city but you won't regret it.

Italy calling your name? Does pizza always hold a place in your heart? San Francisco's Little Italy can satisfy your dreams of traveling to Italy, as well as your pizza craving. Just like our Mission District culinary experience, your guide will take you to hidden gems, local legends, and make sure you get to taste the best of what North Beach has to offer. Start with a bowl of warming cioppino, a seafood stew invented by Italian fisherman and an SF favorite. Then grab a slice of fresh pizza, taste arancini, and don't forget to finish on a sweet note with some Italian desserts.
SF on Tap Tours – Fisherman's Wharf & North Beach

Calling all beer lovers— SF on Tap Tours is one of the best food tours in San Francisco for you. Learn from a brew master in one of SF's premier breweries as you sip on multiple types of beer. Then head to two local beer bars for even more great beer, light snacks, and a chance to drink like the locals do. The craft beer scene is full of history and stories, and you'll get to enjoy that as well as your beer. It's an easygoing tour and fun way to spend an afternoon which SF on Tap Tours describes as "a celebratory atmosphere" that allows for "fast friends."
Tiburon Food Tour – Napa Valley Tour

For beautiful views, waterside dining, and a special surprise location for a sweet treat, check out this Tiburon Food Tour. Tiburon is a former railroad town that's now a peaceful destination perfect for relaxing. On this food tour you'll not only munch on fresh seafood, inspiring Italian dishes, and more as you take in the culinary scene. The experience will be quaint and calm, but will certainly awaken your tastebuds.
Edible Excursions San Francisco – Ferry Building Tour

Reap the bounty of the California harvest with a tour of the farmer's market at the Ferry Building. Establish in 1898, the Ferry Building boasts some of the Bay Area's best produce, creamiest cheeses, crustiest bread, and so much more. You're sure to be in awe as you sample handmade chocolates or try a macaron from Miette. Many of the restaurants and vendors are nationally-acclaimed, meaning everything you try is top quality. Combine your glimpse into history with one of the best food tours in San Francisco.
Japantown Tour – Japanese Food Tour

There's only three Japantowns left in the US, and you'll find one of them in San Francisco on this tour. Of course that means takoyaki, mochi, onigiri, and other Japanese delights. As you taste your way through the neighborhood, learn about the history of Japantown and how it remains a culinary gem. Have you ever had fresh mochi before? You'll regret waiting so long once you've tasted it in the midst of Japantown surrounded by history.
Rockridge Food Tour – Ice Cream & Gelato Tour

If you have a sweet tooth that can't be satisfied, test your limits on this decadent tour. You'll find great ice cream all over the Bay Area, and some of the best creameries are in Rockridge. Even though this tour is just an hour (making it perfect for a little afternoon excursion), you'll eat ice cream sandwiches, all natural ice cream, and build your own sundae. You'll explore Rockridge "one spoonful at a time."
Temescal Tastes – Oakland Food Tour
Check out one of Oakland's hipper neighborhood's Temescal through your tastebuds. Your tastebuds will be doing some traveling too, trying a variety of cuisines from around the world. Try tacos, Ethiopian injera, Korean rice bowls, and other Oakland delights. The diverse selections in Temescal will give you the perfect taste of the neighborhood. Spin the globe and find the delicacy you're looking for here.
The best food tours in San Francisco come in all different forms. There's so much to eat and explore that you could pick a new tour every week! No judgement from us. We know you'll be satisfied from start to finish with a tasty tour.