17 Best Food Gifts Delivered for 2023
November 26, 2022
The foodie craze has come and is here to stay. People all across America and all around the world are getting more and more into learning about the food they eat – and the food they haven't ever eaten! This trend is not only making the availability of food gifts delivered to your loved ones easier – it's making them more interesting!
Below we've curated a "best of" list of some of our favorite food gifts to give to that special someone in your life. We're sure you'll find something that'll take the cake!
What are food gifts?
Let's define what we're talking about first. Food gifts are gifts that center around food. Pretty simple. However, food gifts delivered to your loved one don't have to be just food items delivered in a package. Look below to see what we're talking about! Food gifts can include experiences, gift certificates, and more.

Gold Belly Gift Card
Give the gift of choice with a Gold Belly gift card. Gold Belly is a site that allows you to order iconic food from all over the country. So whether it's an authentic Philly Cheese Steak straight from Philly, or a particular childhood favorite that you can't get in your current location, Gold Belly makes it easy to find and order the food that makes your heart skip a beat.
From the site:
For those passionate, avid food explorers who've eaten it all (we know, is that even possible?), it can be hard to find that perfect food gift that they crave. But never fear—there's Gold Belly wearable swag, snack merch, and gift cards! Instead of stressing over which iconic, drool-worthy eats to give them, let them choose for themselves. With this gift, all their dishes will come true! Learn more about buying a gift with Gold Belly.
Cost: Your choice!
What's Included: A gift card to the cornucopia Gold Belly has to offer.
Why We Love It: The offerings of Gold Belly are diverse and a gift card allows your giftee to choose exactly what they want to order!

Virtual Water Tasting Experience
We're sure you've heard of a wine tasting, but have you ever heard of a water tasting?! Avital's Virtual Water Tasting experience allows your giftee to not only taste different waters from around the world, but also be led by a certified water sommelier to guide them through the tasting. This event takes one hour and is all inclusive with waters, testing strips, and food pairings delivered right to your giftee's door!
Cost: Inquire for pricing
What's Included: 5 Premium Waters: 3 Still Waters + 2 Sparkling Waters, 2 Food Pairings, 1 Water Test Strip, Certified Water Sommelier, Avital: Emcee Host, Guided Water Tasting with Food Pairings, Hands-On Tap Water Experiment, Sommelier Q+A
Why We Love It: This is a totally unique experience that your giftee has likely never tried before – and if they have? It'll be a perfect moment for them to build on their water tasting palette and knowledge base.

Donate in Someone's Name to Feeding America
Feeding America works to get nourishing food to those that need it most in America. From food programs, to food rescue, to disaster response, and hunger research – they're doing good works to help end hunger in America. You can give a gift in someone's honor and they even have a program to give a gift to honor the memory of a loved one. Select an e-card or a gift card to be sent to your giftee. Every dollar donated helps provide at least ten meals! Click here to learn more about giving a gift through Feeding America.
Cost: Your choice!
What's Included: An e-card or mailed gift card sent to your recipient.
Why We Love It: Giving a gift that helps others is the greatest gift of all!
Sichuan Pepper Inspired Gift Box
Fly By Jing's tagline is "not traditional, but personal." And we absolutely agree. The owner of the company, Jing, creates tongue tingling condiments and spice packs using classic Sichuan flavors, including the tongue numbing sichuan peppercorn. The most famous of their products is their delectable chili crisp, but this gift box holds so much more! Not only do you get their famous chili crisp, you'll also get a chili vinaigrette, dried chilis to make your own creations, and more. Let the special person in your life spice it up a bit with this unique gift box. Learn more about this flavor packed gift box!
Cost: $158
What's Included: Sichuan Chili Crisp, Zhong Sauce, Mala Spice Mix, Chili Crisp Vinaigrette, Tribute Pepper, Erjingtiao Chili, Salsero Spoon, Tastes Different Magazine Vol. 1
Why We Love It: Treat this gift box to someone to take them out of their culinary comfort zone, or someone that loves spice that could use a deep dive into a specific type of spice – plus – the packaging is super hip and aesthetic.

Tongue Twister Tasting
This food gift delivered to your loved one comes with a virtual event and host to accompany it. Using a miracle berry native to West Africa, this experience is all about treating your mouth as your own tasty science experiment! This miracle berry will alter your taste buds temporarily for a mind altering experience! In your forty-five minute event you will "flavor trip" with miracle berries and accouterments as you push your flavor boundaries with activities and experiments leady by your friendly host and flavor expert. Then, you'll play the "beanboozled" jelly bean game. Give the gift of a totally new flavor perspective to a friend, group, or family. Learn more about the Tongue Twister Tasting experience!
Cost: Inquire for pricing
What's Included: Miracle Berries, Fresh Citrus Fruits, Jellybeans, Kombucha, 2 Sour Candies, Emcee Host to guide the 45 minute event
Why We Love It: This option is great for groups and will definitely give your giftees a new experience they've never had before.
A Harry and David Gift Tower
It's a classic for a reason. Harry and David started simply in 1934 as a gourmet pear delivery business that was used for fancy gifts for business partners or loved ones. Over the years they've grown to be one of the top fruit and food gift retailers in the world. Their specialty? Food gift delivered! Literally what we're focusing on in this article today. What we suggest is to go all out and choose from one of their many gift towers. They build a tower with deluxe boxes filled with their hits. From fruit, to dry goods, cheeses, flowers, wine, and more – they have pretty much anything you could imagine to have delivered as a gift – all done with class and elegance. Check out their gift tower page to see what they have to offer.
Cost: $30-$250
What's Included: This depends on which tower you choose, but can include anything from their famous pears, chocolates, other fruits, nut assortments, baked goods, cheeses, sweets, and more
Why We Love It: A Harry and David gift is a traditional and classic food gift that will tantalize anyone's taste buds!

Charcuterie Chalet Kit
We're sure you've heard of gingerbread houses, but what about a charcuterie chalet? A charcuterie chalet is just like a gingerbread house, but is constructed with the foods you'd see on a charcuterie board instead of sweet treats. This is different from our other food gifts delivered to your giftee because on top of being super tasty – it's incredibly interactive. First create, then eat! It's your giftee's choice as to how soon they chow down on their creation after they've built it! Get the full details on this charcuterie chalet kit and we bet you'll be pressing that purchase button pretty quickly!
Cost: $129.95
What's Included: Blueprints for How to Make a Charcuterie Chalet, Chateau and A-Frame, All Tools needed: 2 Base Cake Boards, 2 Piping Bags, Cheese Spreader, Charcuterie "Shingles", Breadsticks "Timber", Flatbread "Walls", Fancy Spreadable Cheese "Mortar", Pretzel "Windows", Parmesan "Snow", Smoked Cheese "Snowman", Rosemary "Trees", Dehydrated Orange "Decor", Roasted Nut and Dried Fruit "Cobblestones"
Why We Love It: This food gift is not only tasty, but a creative and engaging activity is built in!

A Le Marais Pastry Set from William Sonoma
Oven fresh pastries in the morning are such a wonderful treat. The smells, the tastes… oh it's just wonderful! Why not make this a food gift delivered to your loved one? This pastry set from William Sonoma will allow them to bake off their own authentically French, premade pastries to have that experience whenever they want at home! The pastries come uncooked so your giftee can bake them off when they want to eat so they're as fresh and delicious as possible. All they have to do is brush with an egg wash and pop them in the oven. You can order this gourmet pastry set here.
Cost: $69.95
What's Included: 2 each of Au Beurre Croissants, Chocolate Croissants, Almond Croissants, Kouign-Amann Batons, Chocolate Kouign-Amann and Pain aux Raisins
Why We Love It: A perfect way to celebrate a person with delicious pastries for them to eat from all week.

Universal Yums Subscription
Universal Yum is a subscription service that shares snacks and foods from around the world with you. Every month they choose a different part of the world and showcase yummy bites from that region. Try tasty treats like Italian Bruschetta Bites and Spanish Pineapple Gummies! Learn more about giving a gift with Universal Yums.
Cost: Starting at $15 per box for 5-7 items
What's Included: A box once a month with a number of snacks from a certain place in the world – the number of snacks will be determined by which tier you choose
Why We Love It: It's the gift that keeps on giving month after month!
Natural Wine Selection
Natty wine is the new trend hitting the vinous world! This type winemaking is a shift many winemakers are starting to adopt which is basically a wine making process with no pesticides and few to no additives. What results is often a funkier, more acidic wine, often with sediment at the bottom of the bottle – though that's not always the case! Speaking of cases – you should order your giftee a case or subscription of natural wine through MYSA. They aggregate amazing natural wines from all over the world and curate them into a monthly box of your choosing. We think choosing their Natural Wine Starter Kit is a great way to introduce someone to the world of natural wine.
Cost: $127.00
What's Included: 1 Orange Wine, 1 Red Wine, 1 Pet-Nat, 1 Surprise Wine!
Why We Love It: This is the perfect food gift delivered for wine lovers looking to try something new or anyone with an interest in food and/or wine!
Make Your Own Kimchi Kit
Kimchi is a Korean food that consists of salted and fermented vegetables that has been made for thousands of years. The most common kind of kimchi is made from cabbage or radishes, but is made with a large variety of vegetables and most typically includes korean chili pepper flakes and chili paste. Take the mystery out of how to make kimchi by gifting Mama O's Premium Homemade Kimchi Kit! This kit comes with everyone you need to make kimchi other than the vegetables. It even comes with detailed instructions and Mama O's site even has video instruction too.
Cost: $45
What's Included: 1 pair kimchi making gloves, 1 package brining sea salt, 1 airlock, 2 plastic air tight lids, 1 jar Mama O's Kimchi Paste (choice of original, super spicy, or vegan), and complete instructions
Why We Love It: Give a person kimchi – they eat for a day. Give a person a kimchi kit – they'll eat for a lifetime.
The Birthday Classic Bundle from Milk Bar
Whether it's your giftee's birthday or not, who doesn't love the flavor and birthday cake?! Milk Bar's Birthday Classic Bundle is a birthday flavored no brainer for any kind of occasion. Milk Bar has grown quite famous since they started making sweet treats in 2008 – lucky for us – they now deliver their confections and bake mixes. This birthday cake bundle comes with their classic birthday flavored cake and a box of birthday flavored cake truffles – rainbow sprinkle goodness!
Cost: $89
What's Included: Birthday Cake and B'day Truffle Dozen Box
Why We Love It: Milk Bar is famous for their cakes and confections – let your giftee enjoy the best of both worlds with this birthday cake flavored bundle!

A Whole Jamon Serrano
Do you know someone that LOVES cured meat and charcuterie? This might be the absolute and jaw dropping gift of their lives. You can buy an entire whole Jamon Serrano on this website and have it delivered to your giftee. This gift is daunting in the most spectacular way, and will definitely surprise whoever opens it!
Cost: $300
What's Included: Approximately 15 lb Jamon Serrano and carving instructions
Why We Love It: This is a real show stopper and huge surprise for any cured meat lover.
Fish Wife Tinned Fish
Another trend to hit the scene recently is the tinned fish board instead of a cheese board. It's all over Tik Tok and Instagram so you know it's really trending. We know about an amazing tinned fish company called Fish Wife and they sell a variety of high quality tinned fish that comes in elegant and beautiful packaging – you don't really even need to wrap them! This could be a great spark to get your recipient to try a tinned fish night with Fish Wife tinned fish, cheeses, breads, olives, pickles, etc.
Cost: $27-39 per pack of three
What's Included: They sell a variety of products to try!
Why We Love It: Perfect for your loved one that loves smoked fish, tinned fish, or trying new food trends – plus the packaging is sooooo cute!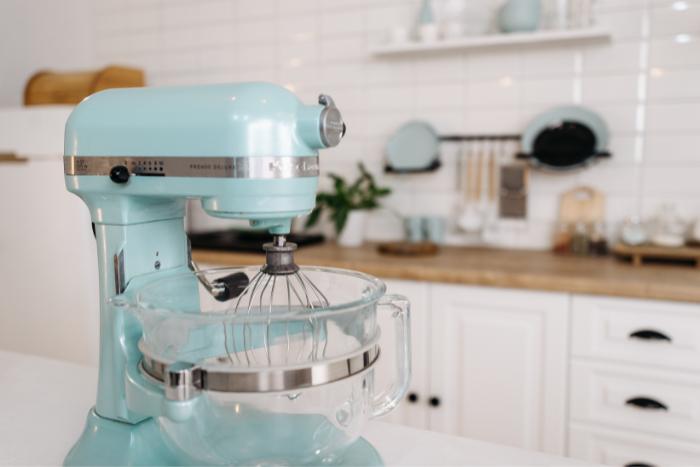 KitchenAid Standing Mixer
This is a classic for a reason. And, whether or not they'll use it all the time, your giftee will love getting this standing mixer as a gift. It truly is a display piece as well as a kitchen appliance! Plus, you can choose a fun color that fits your giftee! Check out this quintessential and classic standing mixer for your special someone.
Cost: $250
What's Included: 5 Quart Stainless Steel Bowl with handle, Coated Flat Beater, Powerknead™ Spiral Dough Hook, 6-Wire Whip
Why We Love It: This will be a staple in your giftee's kitchen for years to come.
Now Serving Gift Card
Now Serving is one of the few cookbook and food book specific book stores and is based in Los Angeles, CA. Other than cookbooks and food books, they sell condiments, sauces, spices, oils, tinned seafood, and some other odds and ends like aprons, kitchen tools, and tea towels. Get your giftee a gift card to this cooking wonderland here.
Cost: Your Choice!
What's Included: Gift Card or books of your choice
Why We Love It: The gift of knowledge is an amazing one – and this cookbook store has an unending number of books for your giftee to try.
NY Food Heart Puzzle
From the site:
Restaurants, and the diverse cultures that create them, are what make up the heart of New York. Lockdowns caused by the coronavirus pandemic severely impacted the restaurant industry. Many individuals lost their jobs, while others continued to work tirelessly, ensuring that the heart of NY kept beating. Moved by the impact this had on loved ones, friends Alex, Michelle, and Stephanie created this image to raise awareness around the lack of resources available to hospitality workers, and as a tribute to the industry.

In response to the economic hardships exacerbated by the pandemic faced by hospitality workers, Areaware supports One Fair Wage, an organization focused on improving wages and workplace equity in the service industry.
Check out this NY Food Heart Puzzle that recognizes folks in the service industry.
Cost: $35
What's Included: 465 piece puzzle
Why We Love It: Puzzles are great fun, and this one brings to light how important restaurant and food culture is to our souls.
There you have it! A curated list of our favorite food gifts delivered to your loved ones.
If none of these food gifts delivered got you super excited we also heartily suggest checking out Avital Tours and their gift certificate. They conduct culinary experiences in San Francisco and New York City that will blow your mind. These thoughtfully curated four-course progressive meals, which build from appetizers to entree and finish with desserts, showcases a neighborhood through its people, places, and great food. Check out a San Francisco gift card or a New York City gift card ASAP!