20 Awesome Activities for Outdoor Team Building in San Francisco
December 20, 2021
Being stuck in the office day in and day out could get boring. Your team needs a little Vitamin C every now and again and it's time to bring them outdoors. The best way to do that, you ask? Well, try one of the many activities for outdoor team building in San Francisco.
What are activities for outdoor team building in San Francisco?
You might be wondering, what are activities for outdoor team building? In San Francisco you have such a wide variety of options. But let's give you a straightforward definition then get into what San Francisco especially has to offer.
Outdoor team building activities are any team building activities that happen outside, and we would say especially outside of your office at another location. Bringing your team outside for their team building activity really gives them a clear physical and mental break from the office environment. This allows them to let go of the work day and focus on getting to know their colleagues, and most importantly, have a fun time. The more engaged your employees are, the more beneficial your team building event will be.
In San Francisco the weather is usually fantastic and there are so many outdoor activities already. SF has almost twenty percent of its land dedicated to outdoor spaces. So, it's a real gold mine for finding different outdoor team building activities.
What are the benefits of outdoor team building in San Francisco?
Doing activities outdoors is a great way to get your team out of the office, into a different environment and liven things up. Not to mention, the many great benefits that come with taking your team building activities outdoors.
Yes, heading outside for team building activities may seem like an excuse to use the sunny, warm weather but there are actually so many benefits. For one, leaving the comfort zone of your office bubble will help foster a more honest and vulnerable environment. Team members will have the opportunity to share their concerns and fears more openly; this will, in turn, give you the chance to create that safe space for them.
Second, it helps your team members bridge the gap between a professional and personal relationship. We often only see our co-workers in a workplace setting and rarely have the chance to get to know them on a more personal level. And we want that! It helps create trust and confidence in the other person. And finally, when doing activities outdoors, you're more likely to be a bit more active which is always great for your team's health and wellness. So overall, a total win I'd say!
With that said, we've got you covered with our our list of 7 awesome activities for outdoor team building in San Francisco
CHARTER A BOAT TOUR
Treat your team to a private boat cruise to experience San Francisco like never before. And this is no regular boat cruise. We're talking catering, bar, entertainment, and even themed nights. And you can't tell me you don't love to get dressed up every once in a while! The best part of it all is that you don't have to plan a single thing. The team will handle everything to do with your event, from the layout, design, catering and everything in between.
For what type of team? For elegant and relaxed teams
STAGE A SCAVENGER HUNT AROUND THE CITY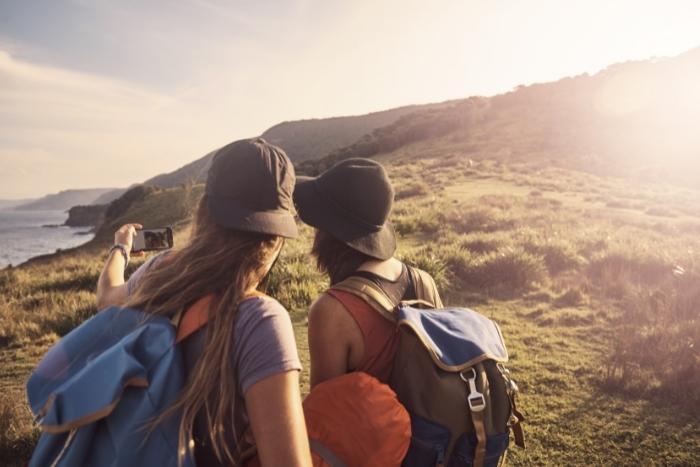 Take a trip around San Francisco's Little Italy with a scavenger hunt. You'll walk through all the famous spots like Washington Square Park, Joe DiMaggio Playground, City Lights, Jack Kerouac Alley, Beat Museum and Al's Attire. So, a little piece of advice? Bring your walking shoes and get ready to have some fun. You and your team will see the city in a whole new light as you use an app to find all the things on your list! A total bonus is that an activity like this will help connect your team as you work together towards a common – and FUN – goal!
For what type of team? For youthful and adventurous teams
INDULGE IN A FOOD TOUR AROUND THE MISSION DISTRICT
Our Mission District Food Tour showcases the innovation and trendy restaurants as well as the Mexican cuisine this neighborhood is known for – the best in San Francisco! Stroll through the historic Latin neighborhood learning about its culinary history and incredibly colorful murals, while hearing the stories of chefs, restaurant owners and industry experts. Our progressive meal in San Francisco's Mission District concludes with mouth-watering desserts near Dolores Park.
For what type of team? For foodies and adventurous teams
PARTICIPATE IN SILENT DISCO YOGA
What is silent disco yoga you may be asking? Well, it's an immersive yoga experience where you throw on a set of headphones and move, groove, breathe, and dance with your friends! You'll, of course, also participate in yoga with instructions being given through individual headphones. Picture yourself relaxing on the beach with some yoga and a dance party – now that's a team building activity!
For what type of team? For athletic and music loving teams
GO BACK TO CAMP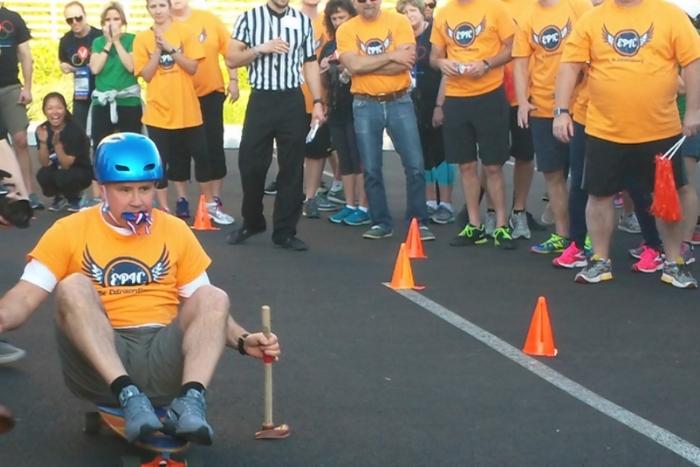 If you went to camp as a kid, you know how much fun it was. The games, the challenges, the teamwork – ah, it makes me want to go back! That's where Camp Basics comes in. Each team will go through a series of challenges head on with another team. It will test your mental and physical strength, as well as teamwork and strategy. If you're nervous about the physical aspect, this activity is predominantly a strategy game so there's no need to worry! Get your inner child ready to play!
For what type of team? For youthful and athletic teams
EMBRACE A LITTLE MYSTERY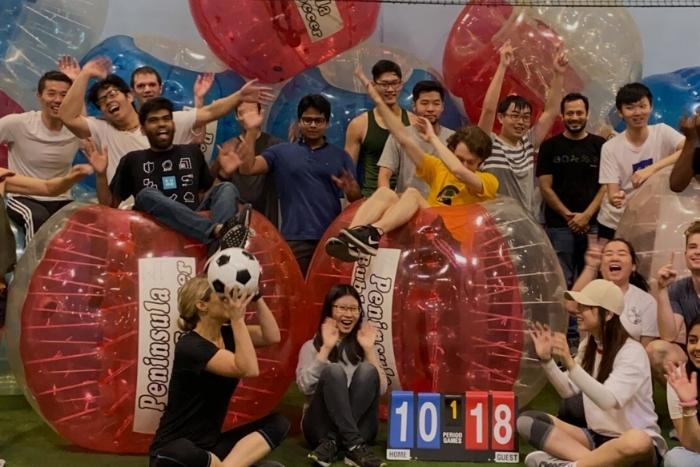 If you're not entirely sure what you're looking for, I would suggest Tyler's Mystery Tours. They will bring you an experience that is entirely unique to you and your organization. So, if you're looking for something outdoors, that requires team building, something physical or strategic, they've got you covered. They have a list on their site of general events they can do but I encourage you to spice it up and try something unique to your team!
For what type of team? For adventurous and curious teams
TAKE A TRIP AROUND THE WORLD IN AMAZING RACE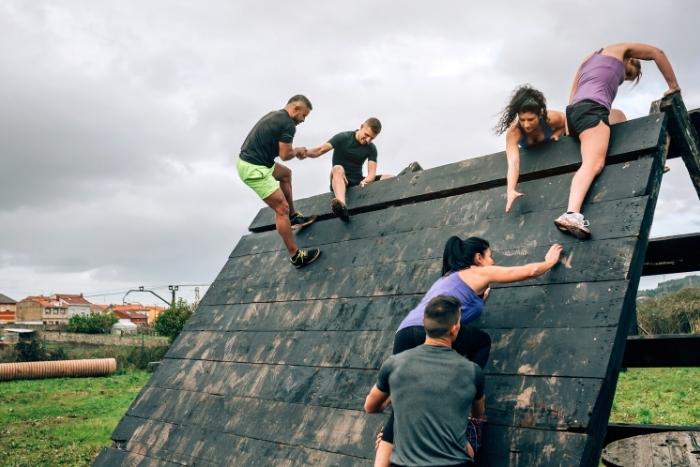 We've all seen an episode – or even a whole season – of amazing race and it's always made me want to participate in one. If you resonate, this is the outdoor team building activity for you! This game of Amazing Race can be completely customized to be held at theme parks, hotels, city centres or it can include trains, boats, buses or anything you like. Are you ready? On your mark, get set…GO!
For what type of team? For athletic and adventurous teams
ENJOY A TASTY LAOTIAN LUNCHEON

One of the best ways to learn about another culture is to immerse yourself in the cuisine. The Laotian Luncheon is an outdoor, interactive dining experience led by an expert chef. You'll make a delicious, authentic papaya salad as you learn about the rich flavors of Lao cuisine. Then feast on spicy sausages, crisp chicken wings, and fresh vegetables. Finish off with a hands-on cocktail lesson with a professional mixologist. A whole afternoon of outdoor team building in San Francisco with great food? Your team will be delighted.
For what type of team? For foodies and adventurous teams
TRY YOUR HAND AT BEEKEEPING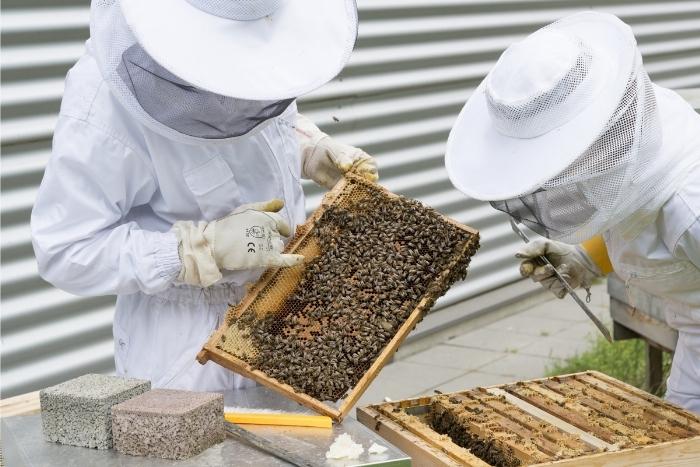 Outdoor team building in San Francisco is always fun when you can incorporate learning something new. And we guarantee you've never tried beekeeping as a team building workshop before. Now stay with us— beekeeping may sound intimidating, but team building is all about pushing your limits and finding new ways to bond. Plus, this expert-hosted workshop will give you hands-on education about the ins-and-outs of beekeeping.
For what type of team? For curious and environmentally conscious teams
SEGWAY & E-SCOOTER AROUND THE CITY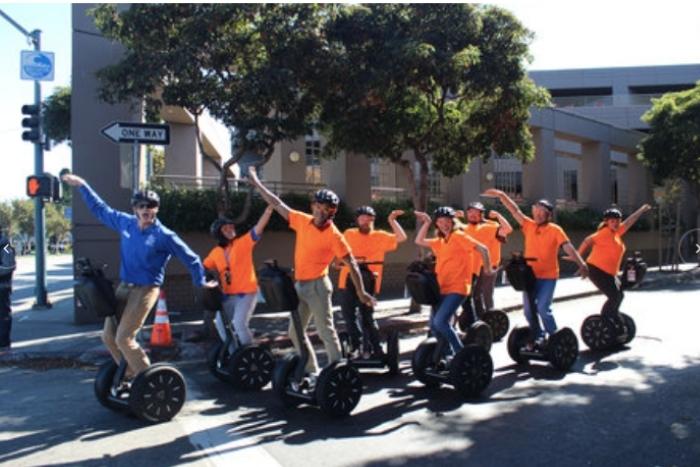 Take in the views and breeze of San Francisco in way you've never done before with your team: via segway! Or e-scooter. Whatever you choose, you'll get to experience the city in a new way and bond with your teammates. Divide in groups for a mobile scavenger hunt through the city, completing tasks and solving the clues. Get going, detectives!
For what type of team? For adventurous yet relaxed teams
TRAIN TO BE A SUPER HERO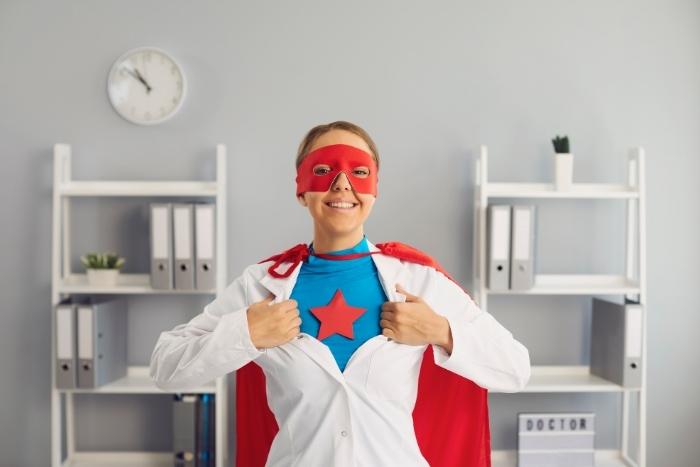 Ever dream of becoming a superhero? It's easier than you think with the Super Hero Academy! This outdoor team building activity will treat you and the team like the heroes you are. Smash, leap, and more to save the world from the bad guys as a team. And in true hero fashion, you'll get to wear a cape! Choose a charitable cause to support as part of your heroic altruism and head outside for a super afternoon.
For what type of team? For youthful and imaginative teams
GET ARTSY WITH A GRAFFITI WORKSHOP
Get immersed with street art and graffiti with this Graffiti Workshop. Create a custom tag and learn more about the street art in the area as you and your team express creativity in a new way. After you finish your custom tags, go on a walking tour to learn more about modern graffiti and public art. The event ends with a chance to spray paint a canvas with your team, creating a custom work of art together.
For what type of team? For artistic and creative teams
PRACTICE SOME RANDOM ACTS OF KINDNESS
Random Acts of Kindness challenges you and your team to complete good deeds and charitable acts around the city to benefit the community. Volunteering can help build empathy and emotional intelligence, as well as bonding your team over a common cause for good. This can also help build compassion and appreciation for the community. This outdoor team building activity works for teams that are cross-country as well— simply pick a day, download the app, and complete your good deeds.
For what type of team? For generous and socially conscious teams
GO FOR A TEAM PADDLE EXCURSION

Got an adventurous team with a penchant for risk-taking? Or want to take advantage of the great nature in the Bay Area? Try Stand Up Paddling on the Napa River. This course is perfect for beginners and set in the picturesque surroundings of Napa. Just make sure everyone attending can swim, and you're good to go! And if Stand Up Paddling isn't quite the move, the same organization offers other exciting outdoor team building activities.
For what type of team? For adventurous and athletic teams
EXPLORE THE FOOD AND CULTURE OF NORTH BEACH
Sign your team up for an Avital Tours North Beach Progressive Meal Experience and feel assured that your team will not only get to know each other better, they will be treated to some amazing foods and stories. From the Gold Rush to the rush of Italians in the 1890s to today, this tour will show you and feed you with all things North Beach. Don't forget to upgrade to alcohol pairings to really take your event up to the next level!
For what type of team? For foodies and adventurous teams
PUTT PUTT IN A MODERN SPACE WITH FOOD TRUCKS
Do you want a more hands off event where you can just have your colleagues show up and have a good time without a specific schedule? Mini golf is a great choice for this goal! Stagecoach Greens, in the Mission Bay neighborhood of San Francisco, offers private events and parties at their mini golf course. It is a part of the new Parklab Gardens, which is a new site that has food trucks, cabanas for lounging, and a bar. So, your employees will be able to gold, eat, drink, and hang out while they put their putt putt game to play.
For what type of team? For youthful and athletic teams
HAVE AN EXPLORE DAY AT GOLDEN GATE PARK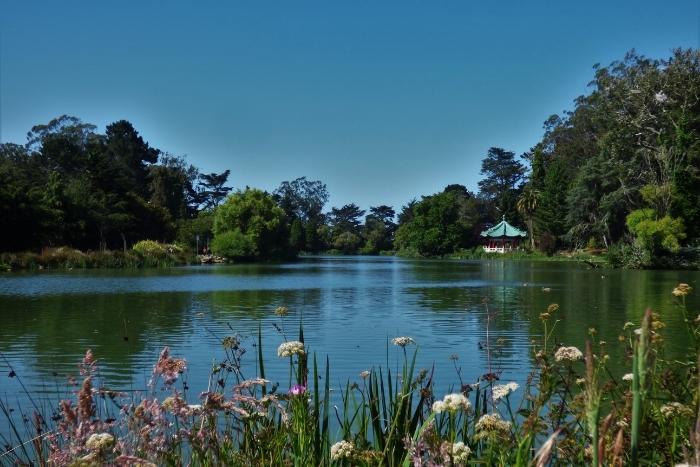 Another choose your own adventure experience for your team. Let them loose at Golden Gate Park with everything they might need! Set them up with bike rentals and give them tickets to the Academy of Sciences, De Young, Conservatory of Flowers, the Japanese Tea Garden, and more. Click here to see all tickets you can buy for your team mates and let them choose their own schedule for the day. You can even set up a giant picnic in one of the park's many open spaces with tables and benches as a base camp for everyone.
For what type of team? For independent and adventurous teams
BIKE THROUGH THE BAY ON EBIKES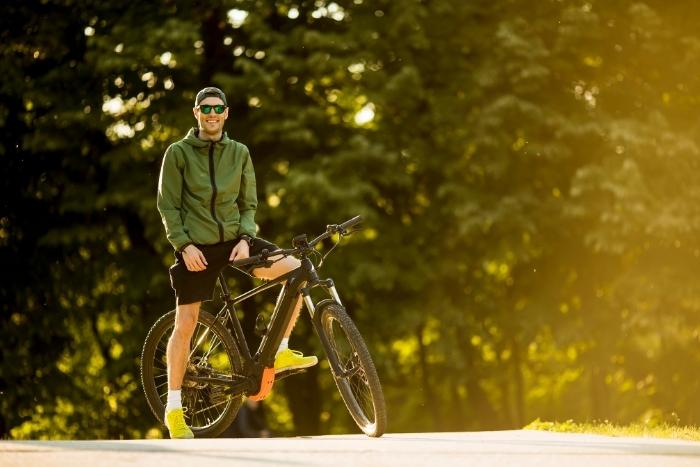 EcoBike Adventures offers team building events where you and your team of 8-16 people can ride ebikes through the gorgeous nature of the Bay. You can choose your general biking location (we're thinking redwoods but that's just us!), but they'll take care of the rest. One of their expert guides will lead the way and at the end of your journey, they can have entertainment, food, and music waiting for you.
For what type of team? For smaller and athletic teams
GET CLOSE TO THE FOOD YOU EAT WITH A U-PICK DAY
U-picks are all over the country, but here in the bay we are lucky to have access to some amazing farms (and amazing weather that makes these farms so great). While this experience does usually require transportation, we feel it's one of our best choices. Depending on the farm you choose (you can go north, south, and east of San Francisco for this event), you will have different options of what you can pick and what else you might be able to do on that farm.
For what type of team? For foodies and down to earth teams
HIKE WITH YOUR TEAM IN ONE OF THE MOST BEAUTIFUL PLACES IN THE WORLD
San Francisco's Bay Area has some of the most beautiful hiking and walking trails in the world. For a low maintenance trip have your team meet at a location – we love the Marin Headlands, Lands End, and if you want to go further north, Point Reyes and go for a beautiful walk or hike. You can either have people plan to pack their own lunches and go rustic, or you can have reservations at a nearby restaurant to dine afterwards.
For what type of team? For athletic and nature loving teams
I hope this list encouraged you to try an outdoor team building activity in San Francisco for your next event! So, which activity will your team be trying? We can't wait to see you on our Food Tour!