Good Indian Food in the Mission District: Aslam Rasoi Restaurant Review
September 27, 2016
Aslam Rasoi restaurant review written by Culinary Guide, Anna Chotzen
Our hankering for Indian was satiated at the classy but comfortable Aslam Rasoi. Whether going on a casual date, taking your parents out to dinner, or simply in need of some quality Indian food, you will not be disappointed.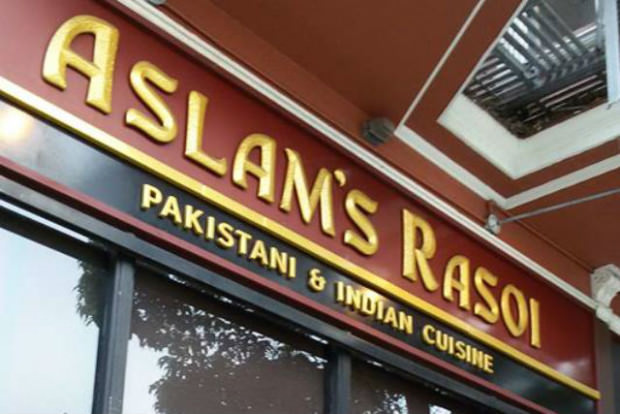 The Place: It's a white cloth napkin but not white tablecloth kind of place, which to me says classy but unpretentious. Hungry after having only had breakfast, we should up at 5:10 pm (ten minutes after opening) and they seated us at the window, presumably to give the allusion of busyness to the outside passersby. In hindsight, I should have requested a corner spot further back in the restaurant.
It would have increased the coziness of the experience. Nonetheless, it was warm and inviting, not so snug as to feel like a friend's home, nor so fancy as to intimidate and make us ashamed of our causal biking attire – puffy down jackets, jeans and beanies.
The Food: We began with the Assorted Appetizer plate (because who want to choose one single taster when you can have them all?!) which came with two mixed vegetable pakoras and two vegetable samosas, along with papadum and two dipping sauces. It was delicious, and we both voraciously ate our little fried morsels. I tried to savor mine – and I did, a little bit – but remember, I hadn't eaten since breakfast.
The entree menu was extensive and enticing. Unfortunately, there were only two of us, limiting our quota to two dishes. We went back and forth and debated whether saffron or ginger sounded more appealing and finally settled on Chicken Tikka Masala and Karahi Gosht (lamb). I have absolutely zero complaints about either. Both sauces – the tomato cream of the Masala and the buttery ginger of the Karahi Gosht – were delicious. The flavors were complimentary and melted in mouth, while the sauciness of the sauce was so saucy and smooth. The meat itself was tender and flavorful, in particular, the lamb. We ordered a side of rice and a basket of naan to serve as vessels for all this goodness.
Full and satisfied, we asked for the bill, and were surprised when the waiter returned with an off-menu cashew ice cream with cardamom, on the house (we guessed this was their compensation of peculiar service early on). I hadn't been looking for dessert, but it was quite delicious.
Other Menu Musts: The Tandoori Chicken looked and smelled amazing. There's a reason it's a classic.
Insider Secret: If you like spiciness, go for the hottest option when they ask how you'd like your dish. It makes you sweat and burn but it does not detract from the flavor of the food.
The Details: Assorted Appetizers: $7; Chicken Tikka Masala: $14; Karahi Gosht: $15
Restaurant Name: Aslam Rasoi
Address: 1037 Valencia Street at 21st Street (The Mission)
Phone: (415) 695-0599
Hours: Open daily 5-11 pm