5 Best Lunch Counters in East Village
October 8, 2018
by Jessica Ferrer
Somehow, the East Village manages to be eclectic and classic all at the same time. From traditional NYC delis to some of the best Chinese food outside of Chinatown, the East Village won't fail you when you're in the neighborhood and need to grab a bite. Here are 5 best lunch counters in East Village that are worth checking out.
Bobwhite Lunch & Supper Counter
Chicken is king at Bobwhite Lunch & Supper Counter, which is kind of funny since it's named after a quail. Though you won't find quail on the menu, you will find fried chicken, chicken tenders, chicken biscuits, and even other Southern favorites. Fret not, vegetarians! There's a vegetarian plate as well, and since mac and cheese is considered a vegetable in the South, everyone will be leaving full and happy.
B & H Dairy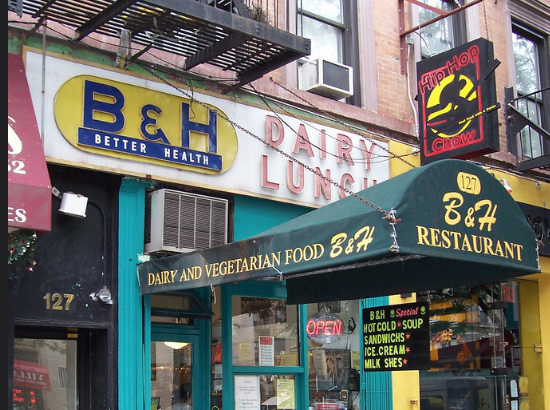 For a taste of nostalgia, head over to B & H Dairy for some old school Eastern European fare. The menu is all vegetarian and kosher, serving comforting classics like vegetarian matzo ball soup, cheese and blueberry blintzes, and piles of pierogis. Customers always compliment the friendly service, making everyone fall in love with this well-known neighborhood staple. Whether or not you grew up eating challah is irrelevant- you're bound to feel at home here.
www.yelp.com/biz/b-and-h-dairy-new-york-2
Hasaki
Ok, so you won't find the "greasy spoon lunch counter vibe" at Hasaki, but sushi counters definitely deserve to be on the list. Hasaki has been in the East Village since 1984, making it an institution in every right. A bento box lunch special with comes with your choice of a main dish like sushi, sashimi, broiled eel, or garlic ribeye. Enjoy your lunch with some sake if you don't have to head back to the office right away.
Veselka
Veselka is another Eastern European joint on the list, but it's not just another Eastern European joint. If you want to talk East Village staples, Veselka has been around since the 50s bringing more of that home-cooked Ukrainian love to beatniks and busy office workers alike. This colorful pierogi palace is open 24 hours, so if you need your fix at 3 am after a night out, the counter is the perfect spot for you. We love it so much that we stop there on our East Village tour. For more details on how you can book a tour in the East Village, click here.
Harry & Ida's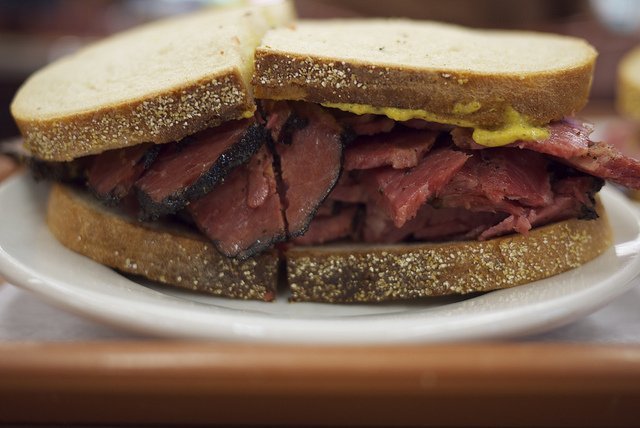 Two words: pastrami sandwich. You can't visit or live in New York without eating a pastrami sandwich at least once. Harry & Ida's is a small sandwich counter that serves a housemade pastrami sandwich on rye with buttermilk fermented cucumbers, anchovy mustard, and dill. The rest of the menu is equally impressing, with twists on bodega favorites like a pastrami meatball hero, the comforting breaded eggplant sandwich that is the "Sweater Weather", and smoked chicken with watermelon kraut. If the weather is good, take your sandwich and some matzoh chips to go.
If the 5 best lunch counters in East Village isn't enough and you want to know more about the food scene, book a food tour in NYC. Interested in booking a food tour in Williamsburg, Flatiron, or East Village? Visit our website to book a public or private culinary experience.