Meeting Location
North Beach Food Tour
Thank you for booking your North Beach Food Tour with Avital Food & Drink Experiences. We can't wait to connect with you! We keep our meeting locations dynamic so we can always feature a great bonus story to kick off your 4-course progressive meal, so check back close to your activity date for your meeting location and guide's name. All tours meet within walking distance of the Montgomery BART station and/or MUNI lines 8, 30, and 45, in North Beach between Washington Square Park and Jackson St.
Meeting Location for Upcoming Food Tour
All Weekday 3PM Tours, Saturday 11AM & 3PM Tours and Sunday 11AM & 3PM Tours: Meet in front of the Italian Athletic Club at 1630 Stockton Street. Your guide will be holding a sign that says "Your Culinary Experience Begins Here"
Alcatraz Guests: Please verify the start time of your Alcatraz Tour and the start time of your North Beach Tour. You will not have a guide as part of your Alcatraz Tour – it is a self-guided experience. For any questions about your North Beach with Alcatraz Experience, please email [email protected].
Meeting Location for Alcatraz Departure: Pier 33 at Alcatraz Landing (see below for how to pick up your Alcatraz Tickets at Pier 33)
Meeting Location for North Beach Food Tour: 1630 Stockton Street
Please be sure to check back 3 days prior to your tour date for any updates/changes!
In front of the Italian Athletic Club at 1630 Stockton Street.
Italian Athletic Club – 1630 Stockton Street
SF Italian Athletic Club, Stockton Street, San Francisco, CA, USA
How to Get to North Beach
North Beach is bordered by Fisherman's Wharf in the North, The Embarcadero to the East, the Financial District and Chinatown to the South and Russian Hill to the West.
If you are coming via BART: The closest bart station is the Montgomery Bart Station. Once you exit the station, it is a 1-mile walk to the heart of North Beach, approximately 20 minutes. Walk North on Montgomery Street until you reach Columbus Avenue. The TransAmerica Pyramid will be on the corner. Turn Northwest onto Columbus Avenue and walk up Columbus Avenue.
If you are coming via cable car: The closest cable car stop is at Union Street and Mason Street on the Powell-Mason Line (NOT the Powell-Hyde line). Refer to the Cable Car Map Here. Once you get off at the Union Street/Mason Street Stop, walk two blocks east on Union Street into the heart of North Beach.
If you are coming via car: Please see our recommended parking garage information below.
If you are not sure how to get there and are running late: San Francisco is the original home of Uber and Lyft. Download their apps to your smartphone. Use Code AVITAL414332 for $10 off your first Lyft ride.
Parking Information
North Beach Parking Garage – 735 Vallejo Street
Portsmouth Square Garage – 733 Kearny Street
Central Parking – 350 Pacific Ave
How To Pick Up Your Alcatraz Tickets
Arrive 45 minutes prior to your scheduled departure for ticket pick up at Pier 33 at Alcatraz landing. Your tickets will be at Group Services and Tour Operator pick up window. You must have your valid photo ID for ticket pick up that matches the names you submitted to our company.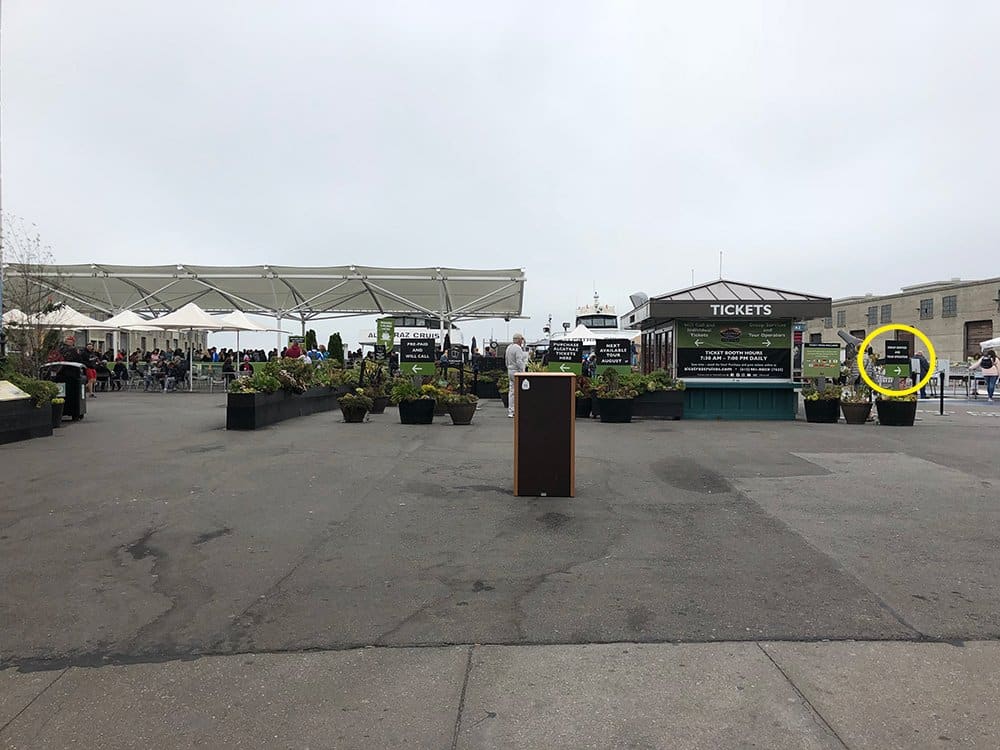 Once on the island, you may take any boat back, but we suggest taking the 2:15pm departure to make an on time arrival for your 3pm North Beach Food tour.
It is a 15 minute walk between Pier 33 and the tour meeting location in North Beach. Please arrive 10 minutes early for your food tour at it will start promptly at 3pm.
For parking near Alcatraz: https://www.alcatrazcruises.com/plan-your-trip/parking/

Alcatraz tips and tricks: https://www.alcatrazcruises.com/plan-your-trip/helpful-tips/

Public Transportation to Alcatraz: https://www.alcatrazcruises.com/plan-your-trip/public-transportation/
More Information to Know Before Your Food & Drink Experience
Want to learn more about your guide? Read about our team!
Explore our blog for more SF tips and recommendations!
Want restaurant recommendations while you're in town? Text us at 415.355.4044 for Restaurant Recommendations and we'll be your restaurant concierge.
Find Your Perfect Experience